Highlight of the Month
Ideal Pyramid for mobility politics – Let's prioritize sustainable transportation!

Transport planners and mobility authorities are highly responsible for achieveing sustainable and resilient transport systems that are equitable, affordable and accessible for all!
Therefore, in mobility politics, this pyramid continues to be the way to go!
We collected six New Year's Resolution proposals for decision-makers in cities for 2023 which should be prioritized in the transport sector to ensure a green and just transition in mobility:
Investing into active mobility!
Making transport safe!
Providing public transportation on a large scale!
Making public transport affordable for all!
Empowering women in transport!
Decarbonizing vehicles through electrification!
Read all Resolutions and examples for best practices here!
Events
Transport and Mobility Events 2023 – Mark your calendar!
As every year, there are numerous transport and mobility events taking place in 2023 that you should not miss. From Transforming Transportation to this year´s TUMI conference and COP28, here's an overview of the most important transport and mobility events coming up in 2023. Mark your calendars and join us, in person or virtually!
TUMI E-Bus Mission
From Global Commitment to Local Actions – The TUMI E-Bus Mission in 2022
Throughout 2022, the TUMI E-Bus Mission has organized a series of City Dialogues as in-person events: Starting at the Sustainable Mobility and Climate Week 2022 in Senegal, all the way to Brazil and Mexico, going through events in India and Indonesia, the meetings brought together regional city representatives and relevant stakeholders from the public, private and financial sector. The in-presence dynamic favored a richer debate and peer-to-peer learning experiences, as well as greater mobilization and actions. After the TUMI Day in Mexico, for instance, the cities were invited to join the Cities Alliance for E-Mobility under the new Mexican National E-Mobility Strategy. The technical discussions and roundtables allowed delegates to exchange with regional colleagues and learn from other experiences, while strengthening coalitions. A further City Dialogue will take place in Colombia in late February 2023. Our commitment to accelerate the e-bus deployment translates into our continued joint efforts
TUMI E-Bus Mission Webinar: Introduction to the Fleet Operations Modeling Tool
TUMI in partnership with the ICCT are excited to offer a free workshop for global city stakeholders that introduces ICCT's E-Bus Fleet Tool. During this workshop, you will receive a high-level overview of the tool, as well as a live demonstration showcasing a fleet bus operator in Mexico. (Hosted in English & Bahasa)
Tuesday, 24th Jan, 12:00 am EAT | Zoom
TUMI E-Mobility
Busting 10 myths about electric-powered buses
With strict targets for reducing carbon emissions, city planners are looking to expand and upgrade their bus fleets as they rethink road transport. But are e-buses really better? Aren´t they very expensive and run out of charge quickly?
Promoting bus implementation for cities, let´s combat the misleading myths on e-buses using scientific proof and pioneer examples to get people on board.
Read "Busting 10 myths about electric-powered buses"
Women Mobilize Women
Studying women's experiences and bringing trailblazers together – WMW and TUMI continue efforts for feminist transport policy
We know that gender-inclusive transport systems start with new ways of collecting data. Therefore, one of Women Mobilize Women's priorities is the development, testing and analysis of gender-inclusive mobility data gathering. The report Decoding women's transport experiences: A study of Nairobi, Lagos, and Gauteng is doing exactly that. Implemented by WhereIsMyTransport and launched by TUMI and Women Mobilize Women during the conference Women in Transport Africa, it is now available for download. On a dedicated website visitors can explore the study results along profiles of different groups of women using public transport. Check it out!
Feminist Voices in Transport 2023
Every change needs its frontrunners. That is why TUMI and Women Mobilize Women will set a special focus in 2023, bringing together transport experts to work towards gender equity in the sector. Highlights include our annual publication, this year as "Remarkable Feminist Voices in Transport 2023" which will be launched on 02. March, the annual TUMI Conference under the same theme and a Study Tour bringing together some of the brightest changemakers in the field around gender and transport.
Follow our Twitter account for the latest news!
TUMI Pilots
The TUMI Pilot City Cuenca kicks-off their e-bike pilot!
Together with the University of Azuay one of the four pillars as parts of Cuenca's E-Mobility plan was launched. The objective of the pilot is to understand the potential of e- bikes as an attractive means to replace private vehicle trips. The pilot also seeks to define the feasibility of incorporating e-bikes into Cuenca's public bicycle system (BICICUENCA). This pilot is articulated with academia, which support with existing analyses and studies and with collection of existing field data. 12 e-bikes have been provided to car users for their daily trips to identify the perceptions of this new means of transport in their daily commute. The pilot will be implemented in several organizations who are part of the project.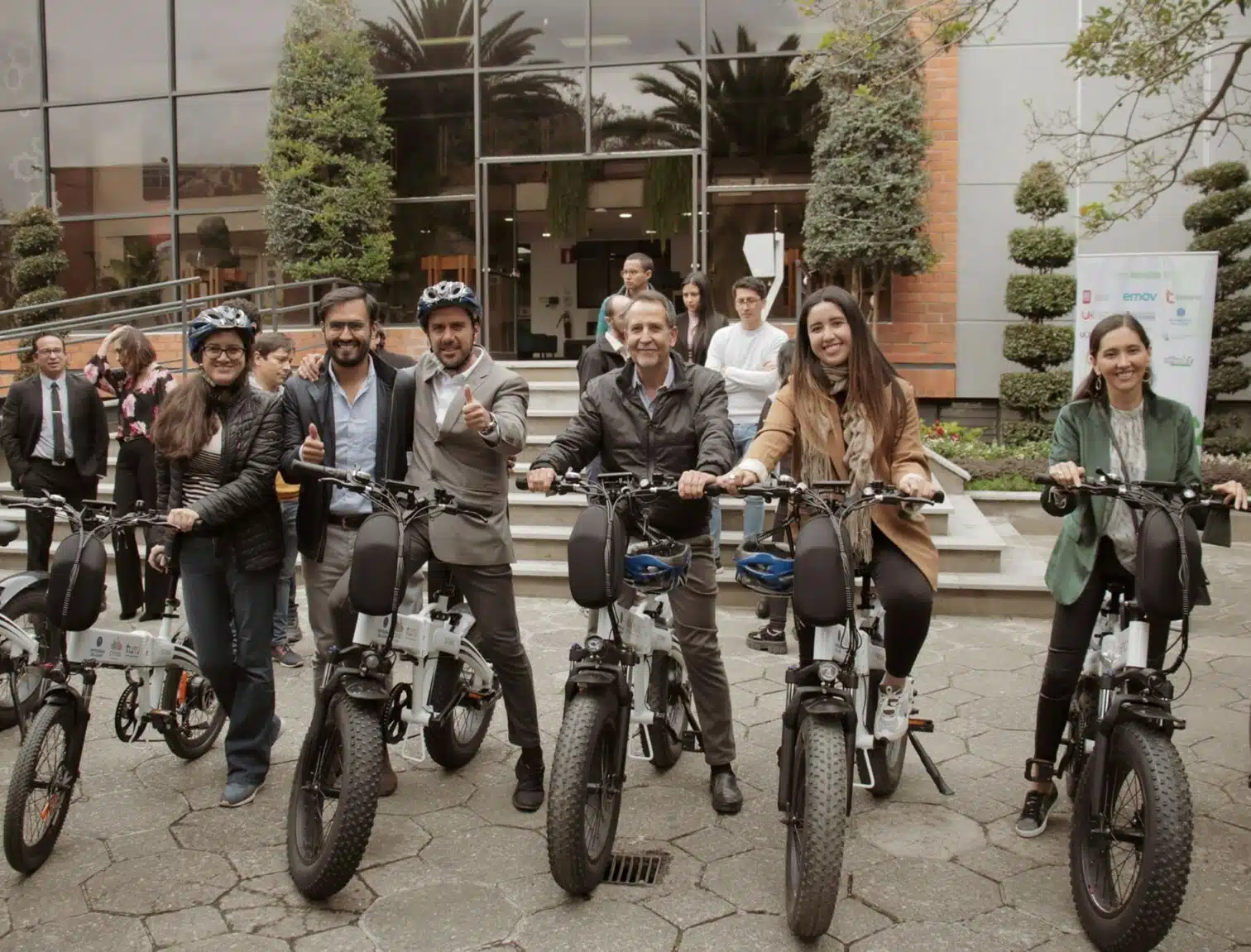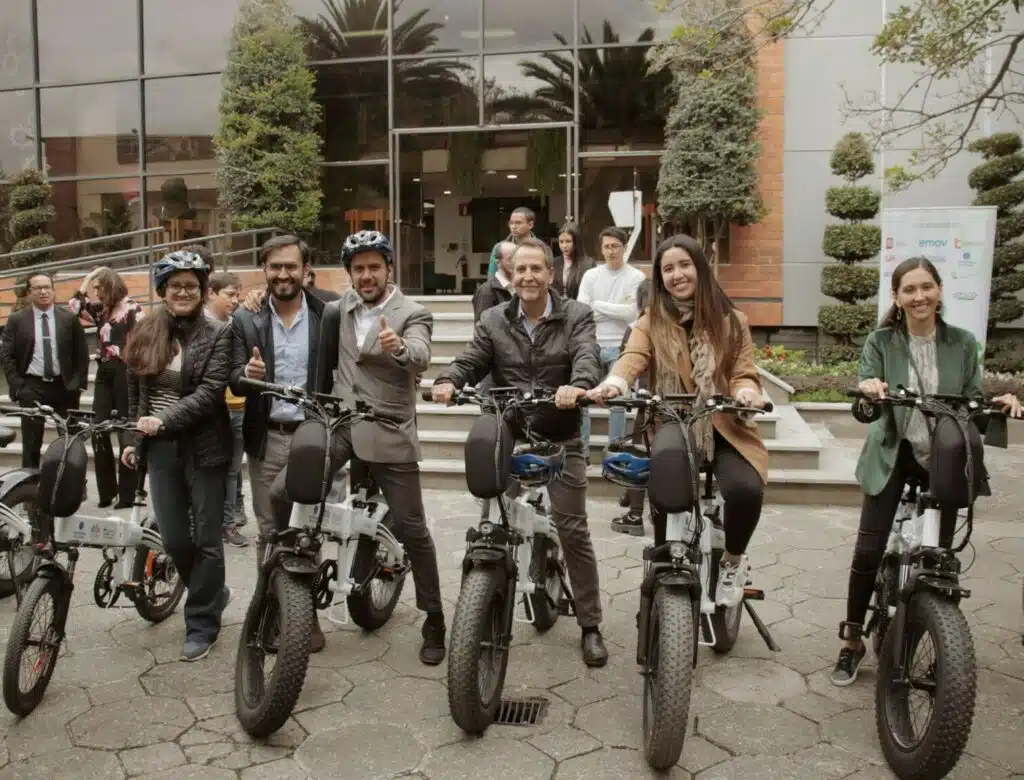 Partner News
ITDP | Looking Towards 2023
ITDP is encouraged by the launch of the LOTUS Initiative for sustainable transport, announced by the Egyptian COP27 Presidency in November to call for more attention and investment into climate action and transport infrastructure across the Global South. ITDP was engaged in the formulation of the initiative and has been tagged as a co-lead for follow-up actions into 2023. LOTUS has put transportation meaningfully on the COP agenda and critically recognizes public transit, walking, and cycling as essential climate solutions. Now, we need public and private sector partners to provide support with policy commitments and funding mechanisms for more sustainable transport worldwide. More information…
ITDP | 2023 Sustainable Transport Award (STA)
Winner Announcement
Each year, ITDP and the Sustainable Transport Award Committee select a global city that has implemented innovative sustainable transportation projects in the preceding year. These cities' strategies improve mobility for all residents, reduce transportation emissions, and improve safety and access for cyclists and pedestrians. This year´s winner is Paris for its innovative efforts to promote inclusive and active mobility, expand cycling and pedestrian infrastructure, and reclaim urban space for public use. Checkout the honorable mentions on the website. More information…
ITDP's Learning Hub
Upcoming Courses
ITDP launched its  Learning Hub in 2022 with two self-guided courses for planners, officials, and practitioners interested in promoting cycling and equitable mobility in their cities. More courses and content is expected to be added in 2023 that highlight a range of mobility topics. More information…
ITDP | Compact Cities Electrified: Roadmaps
Upcoming Publications

TDP will be releasing a series of country-specific briefs in spring 2023 that evaluates the future of each country's urban transport systems through the lens of ITDP's Compact City Scenario – Electrified research. The first brief in the series, focused on Egypt, was released during COP27 and takes a look at four highly ambitious, but feasible, scenarios for the country's urban transport in the next 30 years. Stay tuned at ITDP.org for the next briefs in the series. More information…
ITDP | Upcoming Publication
Defining Low Emission Zones

ITDP will be releasing a deep-dive brief in January that takes a closer look at Low Emission Zones in major cities — initiatives that have the potential to catalyze a faster transition to electric vehicles and encourage more compact development that facilitates walking, cycling, and using public transportation. Stay tuned ITDP.org for the release. More information…
WRI | Event
Join WRI in-person for the 20th Anniversary Edition of Transforming Transportation

Transforming Transportation 2023, the 20th edition of this flagship event, will be an in-person, face-to-face experience organized at the World Bank Headquarters in Washington, DC, on March 14-15, 2023. Transport professionals will meet and engage in innovative ways to learn, interact, and create new connections. New online features will also enable virtual attendance of most sessions. More information…
WRI | Knowledge
Local Governments Have Opportunities to Accelerate the E-Mobility Transition in the U.S. with New Federal Funding

Cities can lead the electric mobility transition in the U.S. by committing municipal fleets to cleaner, more advanced technologies. When cities commit to electrification of fleet vehicles, they boost demand for electric vehicles by demonstrating benefits of EV ownership to individuals. But with new public and private funding available, it is difficult for cities to navigate funding the electrification of fleet vehicles. Twitter
More information…
WRI | Knowledge
Recalibration, Recommitment, Renewal: Top 10 Posts for 2022

WRI reflects on written contributions to TheCityFix in 2022 that continue to shine light on topics such as improving the quality of life for residents in cities, preserving green spaces, improving access to transit, accessing financial resources, and more. Twitter
More information…
WRI | Knowledge
Zero-Emission Delivery Zones: A New Way to Cut Traffic, Air Pollution and Greenhouse Gases

Cities can provide benefits to communities burdened by freight and delivery activity while reducing costs to small carriers and freight-dependent businesses with careful implementation of Zero-Emission Delivery Zones. Twitter
More information…
WRI | Knowledge
A Greener, Cleaner and Better Vietnam Through Transport Decarbonization
Curbing the growing greenhouse gas emissions in Vietnamese cities requires policies that provide the right incentives and generate low carbon transport solutions. Twitter
More information…