I'm so delighted to be here. Thank you for inviting me. Five years ago, when I was here last, I was blown away by what happened on this stage during that day and I thought I had to come see it again.
I have been instructed to talk a little bit about myself, which I typically actually don't talk about on stage. But then, I'm going to talk about women in general, and then about you all specifically. So that is three parts.
About Me
I founded Zipcar in 2000 and so I want to take you back to 23 years ago. My co-founder is German, and she had seen car sharing in Berlin on vacation. When she came back to the U.S., she brought the idea for Zipcar with her. In 2000, 50% of the population had access to the internet, and that was mostly at work. And only 25% of adults had a cell phone; and that would be a cell phone, not a smartphone at all. 
This is the founding meeting of Zipcar: When I heard the idea, I thought: "Wow, this is what the internet is made for: Connecting specific resources to people directly. This is what wireless will make possible; getting a reservation from the internet to a specific car." And lastly: "This is what I want for myself."
As I'm standing here in front of women and thinking about this moment, I realize it also was because I was a mother with three children. At the time, we had one car, living in the city. My husband would take it for his 'male' commute, and I would be left in the city, sometimes at work, and sometimes caring for children. And I wanted a car just sometimes. So, I think it really was because I was a woman and had gone to business school and was a caregiver. I thought: "This is something we need!" 
It was during those years of building Zipcar that I realized: Transportation is the center of the universe. And then I spent the rest of my life working on transportation. Before that I knew nothing about transportation. Now, I'm completely committed to it: transportation is our gateway to opportunity.
In 2007, I co-founded a company called GoLoco, which was about ride sharing. 'Real' ride sharing: "I'm going from Boston to New York; I have three empty seats. I want to fill them up." I spent two years working on that and I raised money for it. And I couldn't make it work in the US. And that reality continues to this day, after many, many startups trying their hand at it, ride-sharing does not work in the US. 
In 2010, I decided to try my hand at peer-to-peer car sharing. People had told me when I was doing Zipcar 'Why don't you use other people's cars?'. There were just too many other issues to solve when we started car sharing in 2000 to take on that additional complexity. There was no way we could be touching other people's cars and insurances. 
So, I launched Buzzcar in Paris. Along with nine other companies, who started at the same time doing the same thing in Paris. It was a very good location to start it! but we were not number one and we were not number two. We were number three and we merged with Drivy which succeeded in that market and then later joined with GetAround.
In 2012, I co-founded Veniam, which does vehicle mesh network communications: Getting data from the vehicle to the cloud. It's something that I loved and still do. Veniam recently joined with another company.
And lastly, for a period of seven challenging months I had pulled together five of the world's largest NGOs dealing with transportation in cities to think about:
What are the principles of shared mobility? 

How do we create livable cities?

Are there things that we all agree on?
I would talk to innovators building companies and they would say: "Cities have no idea what they're wanting to do". And cities would say: "I hate that startup because they're ruining things that we care about." 
So, we created the Sharered Mobility Principles for Livable Cities and then we created the New Urban Mobility Alliance as an NGO to embody these principles and push those forward.
Today I'm 64, and we are post pandemic and life has changed. I want to say: This is an on-going journey. For example, I'm totally infatuated with the potential for electric micromobility: e-bikes and their transformational power. My personal journey continues. And if you all think you've figured it out; you haven't. In five years, you'll have a new thing you want to do.
About women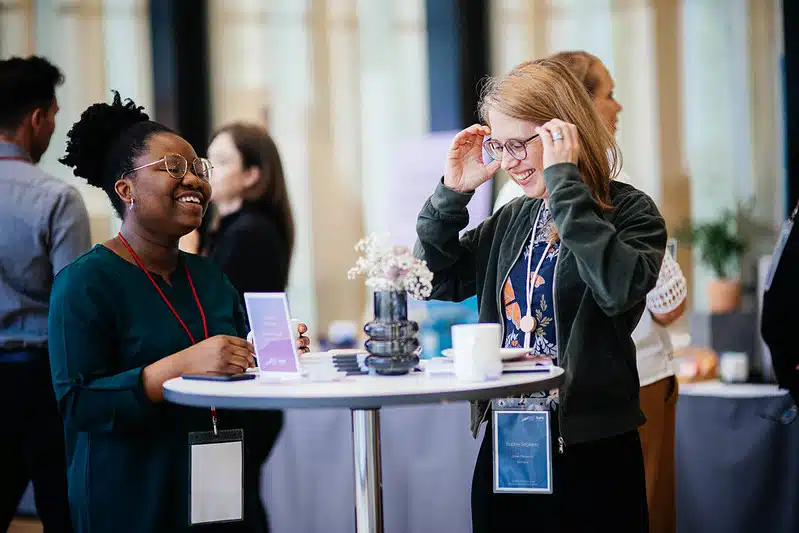 Now, I want to talk about women as a stereotype. And I usually shy away from this because stereotypes are so deeply disturbing. You all know stereotypes aren't true, we know exceptions to stereotypes all the time. But still, I want to talk about these stereotypes today. Because these are the reasons why women should be at the table. 
From a stereotype perspective, we are caregivers. This is something that women actually do and what are the implications? When we've had white men designing our transport systems for the last 120 years, they delivered things that work for white men. Obviously. In this picture, you can see my two hidden grandchildren moving through a train station. How do you move through train stations when you have a stroller? It's not thought about. But women think about that instantly. Because we are caregivers while for men, it hasn't crossed their minds yet. They are designing for commutes to work, yet we know that commutes are 20% of trips. And non-commutes are 80% of trips. That's a lot. 
Women have dynamically physical lives. We live with menstrual cycles and pregnancies and lactation, and menopause. Meaning that, as human beings, our lives, our physical selves, and our presence is a very dynamic and moving thing, flexing month to month and year to year. Whereas men, I feel like, they hit puberty and that's it. It's just like a straight path. Women are experiencing this constant flux. In our day-to-day lives, we experience different ways of being mobile. We feel differently as we move through life and so we can relate to these other sets of circumstances. We do that as we go about our days because that is built into us. 
We are multitaskers, thinking beyond silos. This is my favorite stereotype about women. I think women are made to multitask. When we think about transport transformation, it used to be that there were two ways to innovate in transportation: You would build new infrastructure, or you would build a new concept car. But the whole idea of caring about how people use the service and the actual experience of it was not thought about. I think women are so good at that and men completely miss it. Of course, these are stereotypes; I want to keep repeating: these are just stereotypes. 
But I do feel like that's why women are really good at being at the table. Because we think about these relationships and the behavior and the use case, and the seams between things. And so here again, when I did Zipcar, it was because I was a mother. And I knew that I had these things to carry around.
Lastly, women are focused on the survival of children. I think that is clearly what we are. Deep inside of us, we care about our own children surviving – this is making me cry – and others' children, too. 
We're standing in this moment of climate change that we've been in for so long. And we have to choose between our children surviving… or getting rich. It is maddening to me that it seems like men – again I'm talking stereotypes – say: "I need another billion dollars" or "I care about another million dollars rather than the survival of the planet and our children." It is just crazy to me. But I think women, more often than men, will choose the survival of the planet.
About you
This part is about you guys, in this room and listening as individuals. My experience, when I was here five years ago, was: I heard other people's stories and the things they had done. I was so deeply impressed by the amazingness of these other people, about what they had done with their lives and how incredible they were. And so, I'm here looking forward to that. I'm going to meet women who are determined and tenacious in their work, that are box-breaking in that they're tired of the old standard ways of doing things and they're ready and willing and doing things in wholly new way.
I'm looking forward to being inspired entirely by women.  I'm really looking forward to these conversations we're going to have today and with each other in between. Women are collaborative and they are amazing, so I look forward to this day. 
And as I think about how we're going to be interacting with each other, I'm going to be asking the question I think we should all be asking each other: What can I do to help? And in order to ask that question with authenticity, we need to know what they're doing, and we need to know what we are doing. And find out: Where is there an intersection between those?
I'm looking forward to a fantastic day ahead!
Further links: 
You can watch a recording of this keynote speech here: TUMI2023 Conference | About Women, All of Us by Robin Chase – YouTube
For her work, Robin Chase was honored as one of the Remarkable Feminist Voices in Transport 2023. In an interview, she shares her vision for a Feminist Transport Policies: Robin Chase: Remarkable Feminist Voice in Transport 2023 – WomenMobilizeWomen
Don't feel like reading? If you want to hear more about Robin's story, check out our latest "Talking Transport Transformation" podcast episode: S02-E21 | The right to free movement with Robin Chase – Talking Transport Transformation – Podcast (podigee.io)