By Armin Wagner et al.
To combat an epidemic, it is essential to avoid or reduce travel or the need to travel in general (in particular of non-essential traffic and prioritize only system relevant employees & goods).
These measures can include: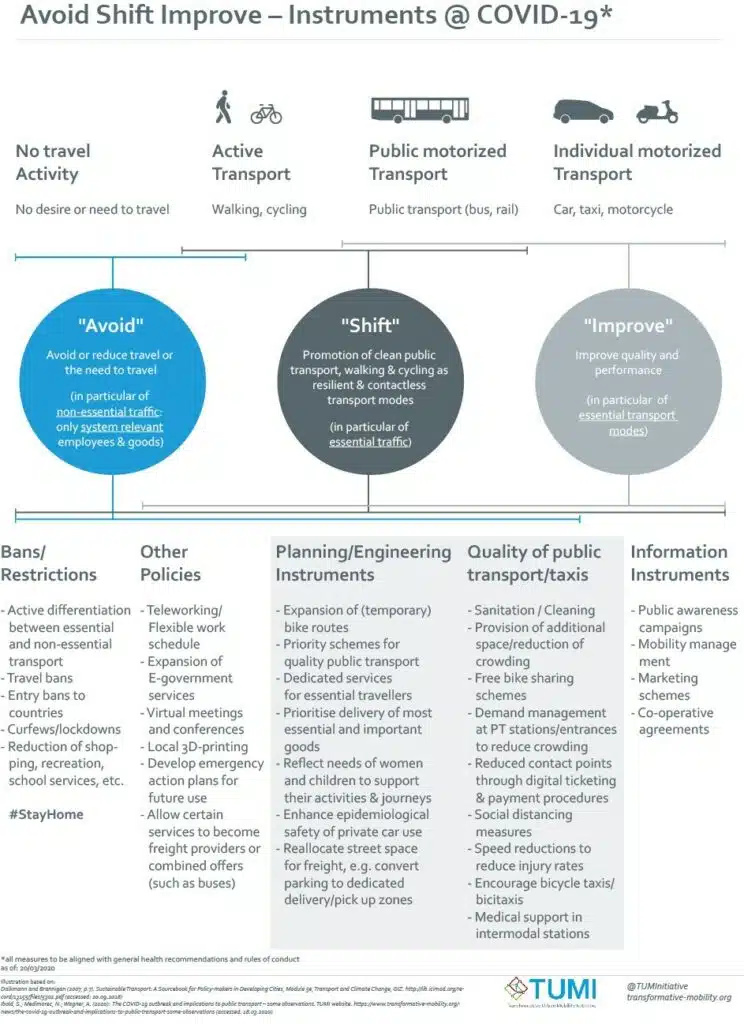 Bans/Restrictions
– Active differentiation between essential and non-essential transport
– Travel bans
– Entry bans to countries
– Curfews/lockdowns
– Reduction of shopping, recreation, school services, etc.
#StayHome
Other Policies
– Teleworking/Flexible work schedule
– Expansion of E-government services
– Virtual meetings and conferences
– Local 3D-printing
– Develop emergency action plans for future use
– Allow certain services to become freight providers or combined offers (such as buses)
Planning/Engineering Instruments
– Expansion of (temporary) bike routes
– Priority schemes for quality public transport
– Dedicated services for essential travelers
– Prioritise delivery of most essential and important goods
– Reflect needs of women and children to support their activities & journeys
– Enhance epidemiological safety of private car use
– Reallocate street space for freight, e.g. convert parking to dedicated delivery/pick up zones
Quality of public transport/taxis
– Sanitation / Cleaning
– Provision of additional space/reduction of crowding
– Free bike sharing schemes
– Demand management at PT stations/entrances to reduce crowding
– Reduced contact points through digital ticketing & payment procedures
– Social/physical distancing measures
– Speed reductions to reduce injury rates
– Encourage bicycle taxis/bicitaxis
– Medical support in intermodal stations