By Daniel Moser
At TUMI2021 we discussed the topic of Green Recovery for a New Vision of Sustainable Mobility in a fully digital 3D virtual reality conference. We celebrated the TUMI 5 Year Anniversary with in depth discussions together with key partners on the challenges for the road ahead of us. At COP26 we launched our flagship report: The TUMI Transport Outlook 1.5˚C. The report provides concrete pathways and key recommendations to bring transport in line with the Paris Agreement. Jump right in.

News
TUMI Challenge Kochi – Reimagining Fort Kochi launched 'KOCHI ITHILE'
Kochi Ithile way finding portal was developed under the Reimagining Fort Kochi – an innovative pilot project implemented on the Fort Kochi island in Kerala, India. The pilot project was identified under the Transformative Urban Mobility Initiative (TUMI) Challenges and SMART-SUT project. The project was jointly implemented under the leadership of Kochi Municipal Corporation (KMC) by Centre for Heritage, Environment & Development (C-HED), Cochin smart mission limited (CSML); TUMI partner World Resources Institute (WRI) India & SMART SUT project of GIZ India. The pilot project was funded by German Federal Ministry of Economic Cooperation and Development and contributes to the Indo-German Green Urban Mobility Partnership.
The way finding signages were launched this week in Kochi. Alongside, the Kochi Ithile portal helps tourists and locals navigate Fort Kochi better. The website is an extension of the way-finding signs.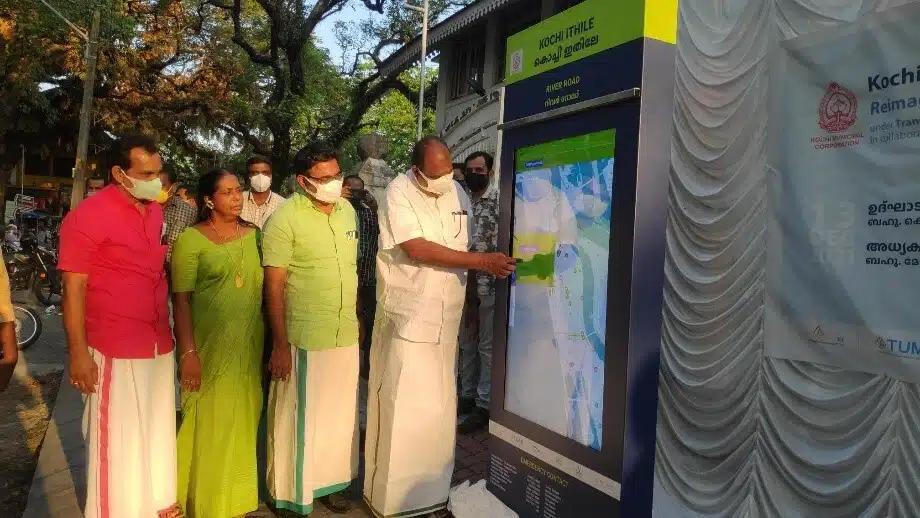 #ElectricWomen 2022 – we received 81 nominations!
With the start of the #ElectricWomen campaign we asked you – the transport and mobility community – to highlight remarkable women working within E-Mobility. We are overwhelmed to have received 81 nominations! The winners will be announced on 8thMarch – International Women's Day 2022! In the meantime: browse through last year's Remarkable Women Publications on the Women Mobilize Women website.
Want stay up to date? Follow Women Mobilize Women on LinkedIn!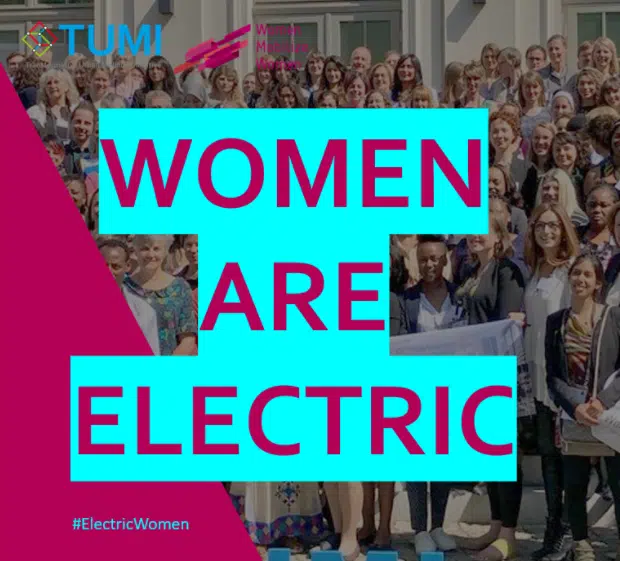 TUMI E-Bus Mission 2021
TUMI E-Bus Mission started earlier this year to support e-bus upscaling around the world. 17 deep dive cities joined the coalition and are being supported by a broad coalition of partners to set ambitious targets for e-bus deployment. Cities such as Chennai, Delhi, Jakarta, Bogotá and Sao Paulo will procure more than 1,000 e-buses each until 2025. C40, ITDP and WRI will provide technical assistance to assure a successful implementation. ICLEI and UITP will set up a mentee city program to inspire 100 cities until the end of 2022. TUMI E-Bus Mission will realize a series of webinars on e-buses in 2022 and take part in several global events. Look out and join the Mission!
For India, TUMI E-Bus mission is exited to announce Mr. Sudhendu J. Sinha, Adviser (Infrastructure Connectivity & Electric Mobility) at NITI Aayog as the National Ambassador (NA) of the TUMI E-Bus Mission in India. As the NA Mr. Sinha will serve as link between Federal Institutions in India and TUMI and support in advancing the implementation of the TUMI E-Bus Mission in the country. More about NITI Aayog role in India on topic of E-Mobility can be accessed here.
New Publications
The Playbook for Zero Emissions Mobility LAC:
The playbook model clarifies how Latin American and the Caribbean countries are taking action. It describes practical steps and resources for leaders to refer to in their transport transition journey. This model is established on previous intensive research and collective papers published by the partners of the Zero Emissions Mobility Commitment. The joint effort to support the advancement of sustainable mobility in Latin America and the Caribbean offers a step-by-step guide for transforming public transport by 2035. The playbook has been published in 3 different languages. Download the English, Spanish and Portuguese versions here.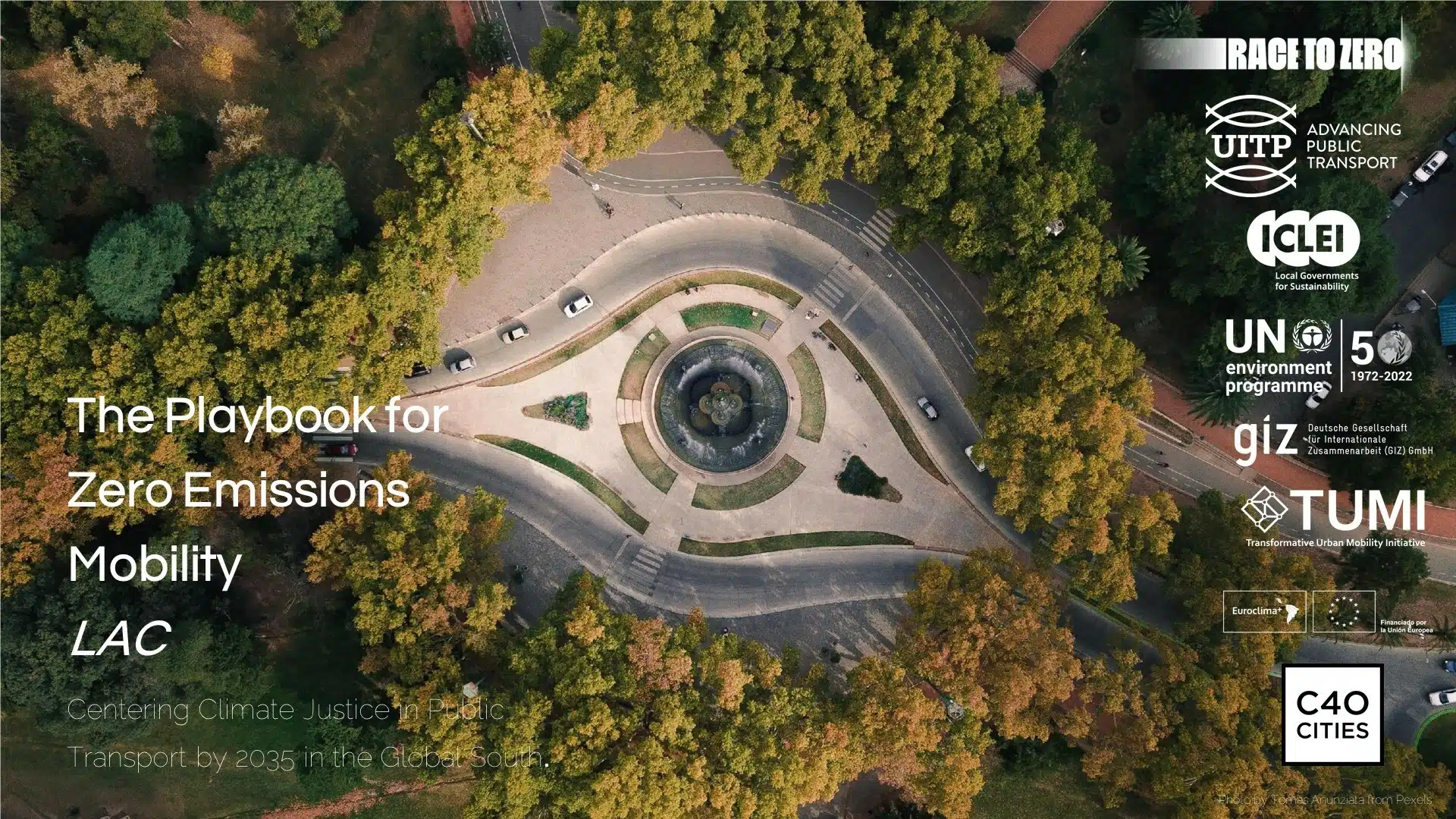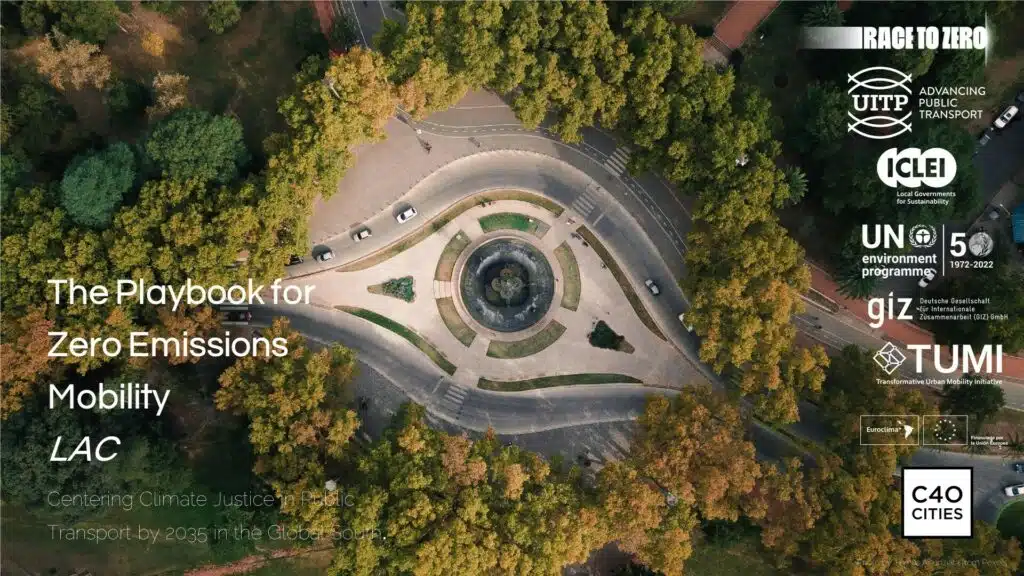 Preview – Financing Fundamentals for the Decarbonisation of Transport
Meeting the challenges of decarbonizing the transport sector and the wider climate mitigation targets will require a step-change increase in investment in low-carbon transport initiatives and activities. To provide policymakers with a source of information, reference and materials relating to the financing of the transport sector the 'Financing Fundamentals for the Decarbonisation of Transport' are being developed by the SLOCAT Secretariat, the Transformative Urban Mobility Initiative (TUMI), the German Federal Ministry for Economic Cooperation and Development (BMZ), the Deutsche Gesellschaft für Internationale Zusammenarbeit (GIZ) and the World Resources Institute (WRI) through the SLOCAT Transport Community Engagement in the UNFCCC Task Force. Please find the preview of this activity here, with case study examples and further information to signpost the considerations.
New article on Talking Transport Transportation Podcast
New article about the Talking Transport Transportation Podcast episode on Road Safety with Viktor Zagreba. The road safety activist and mobility consultant outlines the issue of road safety in the Ukraine, which has one of the lowest road safety levels in Europe, and elaborates why the lack of road safety is not a technical problem, but a social one. Find the article on our website under the News section.
TUMI Events
E-Bus UpSchool Capacity Building Programme
SMART-SUT Project (GIZ India) has launched 'E-Bus UpSchool Training Programme' to address the training needs for increasing uptake of electric buses in India. The Programme will be implemented with UITP as an Implementation partner and TUMI as a knowledge partner. At the larger level, the programme aims to help Indian cities for a future energy transition to clean and green energy, enabling decarbonisation in the public transportation sector and achieving Sustainable Development Goals of climate change. Find an overview of the trainings' 7 modules and 32 online sessions as well as registration details here.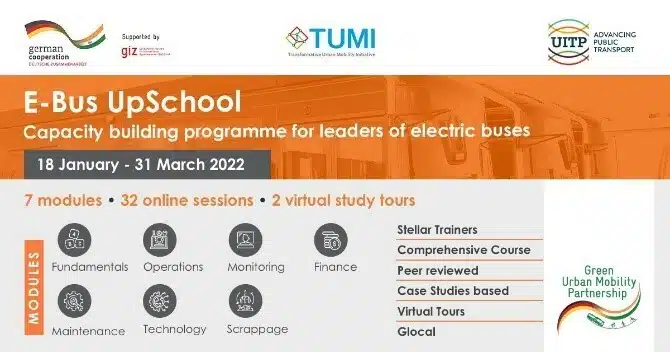 Partner News

The Compact City Scenario – Electrified by ITDP
For the urban transportation sector—one slice of the climate-change equation—the road to keeping below 1.5°C global warming involves both compact cities developed for walking, cycling and public transit, as well as a rapid and strategic transition to electrified vehicles. ITDP's latest report details why these two policy changes, implemented in tandem, are necessary to lower cumulative greenhouse gas emissions from urban passenger transport by 59 gigatonnes (Gt) CO2-eq by 2050. This combination of policy changes would reduce the sector's emissions by about 50% over the next 30 years, just below the amount needed to limit the impending damage that climate change can bring. Download here.
WRI Prize for Cities – apply by 15 February
Thriving together in turbulent times: The WRI Ross Center Prize for Cities recognizes trailblazing projects and initiatives for their contribution to inclusive and sustainable urban transformation. It seeks to inspire urban change-makers across the globe by amplifying lessons and telling impactful stories of transformative change. The 2021-2022 Prize cycle invites submissions from initiatives and projects demonstrating how to live and thrive in turbulent times by helping cities and communities respond to uncertainty, disruption and crisis. $250,000 will be awarded to one grand prize winner and $25,000 each to four runners up. Find all information here.
SLOCAT published "Climate Strategies for Transport: An analysis of Nationally Determined Contributions and Long-Term Strategies"
The report analyzes trends, targets and actions towards the decarbonization of transport in the climate strategies presented by countries within the context of the Paris Agreement. Based on the analysis, the report seeks to determine the extent to which climate action in transport is on track by countries to meet the Paris Agreement goal of limiting global warming to below 1.5°C.
Read the full report or find the executive summary here.
Indo-German Green Urban Mobility Partnership (GUMP) Newsletter
Read through the first edition of the GUMP newsletter! In November 2019, the Indian Ministry of Housing & Urban Affairs (MoHUA) and the German Federal Ministry for Economic Cooperation and Development (BMZ) signed a Joint Declaration of Intent on the Green Urban Mobility Partnership (GUMP). Both countries agreed to collaborate more closely to transform urban transport systems through more efficient, people-centric and low carbon mobility solutions. BMZ agreed to make available concessional loans in the volume of € 1 billion through KfW Development Bank up to 2023. In addition, Deutsche Gesellschaft für Internationale Zusammenarbeit (GIZ) is providing technical cooperation to enhance the capacities of national, state and local institutions and decision-makers for designing sustainable, inclusive and smart solutions for easy and affordable mobility.
ADB Launches New Carbon Fund to incentivize Climate Investments
The Asian Development Bank (ADB) launched a new carbon fund, the Climate Action Catalyst Fund (CACF), at COP26. The CACF will help ADB's member countries to meeting their nationally determined contribution (NDC) targets and increase their targets over time. The CACF aims to mobilize more than US$ 100 million from national and local governments, as well as public and private sector organizations in ADB's member countries, to catalyze the investments needed to meet the Paris Agreement and Sustainable Development goals. To learn more, click here.
Wishing you a happy holidays season!
Best regards,
Daniel
PS: If you made it till the end: Click here and learn why parking is even worse than you thought.