Welcome to this special edition of our TUMI Update dedicated to International Women's Day!
Mobility is an essential public good. However, transport systems are not sufficiently taking into account the needs of women, diminishing their right to the city and to safe and free movement. When it comes to the transport workforce, women make up less than 20% of the transport sector globally and are thus not benefitting from this critical economic sector the way men do.
A just mobility transformation relies on the perspectives of women and marginalized groups. Feminist transport planning means ensuring safe, reliable, and accessible transport for people of all genders. At TUMI, we understand gender equity as a cross-cutting topic and a cornerstone of all of our focus areas. As part of TUMI, the Women Mobilize Women Initiative is specifically dedicated to this topic and fosters the exchange of worldwide expertise on creating transport systems that work for everyone. Last week, Women Mobilize Women awarded the "Remarkable Feminist Voices in Transport 2023" and published the annual publication with the same title.
This special edition of the TUMI Update highlights recent work of TUMI, Women Mobilize Women and our TUMI partners around the topic of gender equity and mobility.
Enjoy the read!


Remarkable Feminist Voices in Transport 2023
WMW's study tour, book launch and award ceremony

On March 2nd, 2023, the Women Mobilize Women Initiative awarded 30 women from 20 countries as "Remarkable Feminist Voices in Transport 2023". The high-level dialogue and award ceremony was hosted at the GIZ Representation Berlin. Parliamentary State Secretary Dr. Bärbel Kofler (BMZ) opened the event, followed by a laudation held by GIZ Management Board Member Ingrid-Gabriela Hoven.
The award honors women who have made outstanding contributions to more gender-equitable urban transport systems in their respective countries. Among them are Zoleka Mandela, granddaughter of Nelson Mandela, a strong advocate for road safety and founder of the Zoleka Mandela Foundation, as well as Laura Ballesteros Mancilla, Alternate Senator at the Mexican Congress and founding member of Mujeres en Movimento. Other honorees include Dr. Sigrid Nikutta, CEO of DB Cargo AG and Anuela Ristani, Deputy Mayor of Tirana, Albania, who also attended the award ceremony. The 30 women were nominated in a public call that resulted in 75 nominations from over 30 countries.
Furthermore, the initiative also invited the award recipients from the Global South to a high-level study tour in Berlin. Twenty-one of the award recipients and representatives of relevant institutions and organizations in Germany attended a week of expert exchanges from February 27th to March 3rd. Among others, the program included discussions on the importance of gender mobility data, expert exchanges with members of the German Parliament, UN Women, the Centre for Feminist Foreign Policy and other relevant stakeholders under the light of Germany's Feminist Development Policy.
Every year, WMW honors the "Remarkable Women in Transport" in a publication. In light of Women Mobilize Women's five-year anniversary, this years' edition has the special title "Remarkable Feminist Voices in Transport 2023".
The digital version of the book is downloadable here.
Love letters to our cities
Our Women Mobilize Women Ambassador Melissa Bruntlett recaps her first-hand experience of facilitating and taking part in the expert study tour. She writes, "I am convinced that it is only through empowering this global community of women that we will find the strength to dismantle existing patriarchal systems and realize more gender equitable, feminist mobility."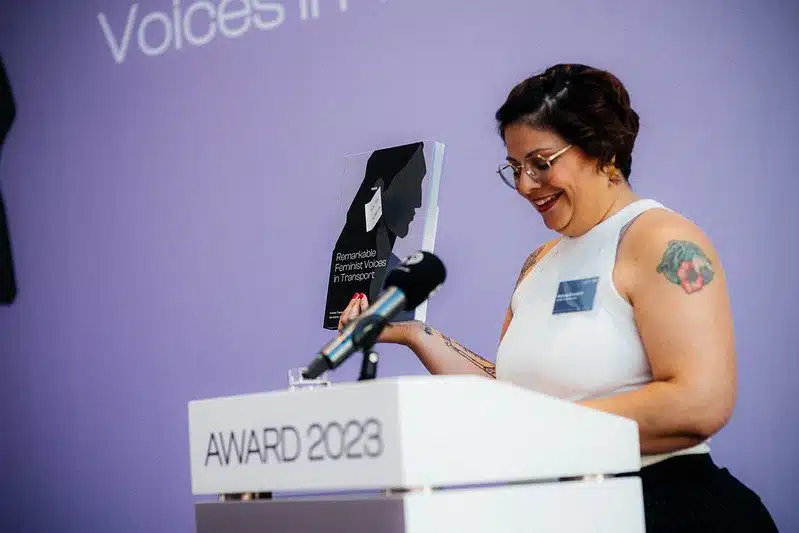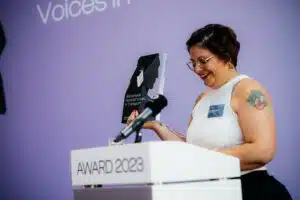 Click here for the full blog article!
Impressions of the award ceremony in Berlin
You can find a preview of the photos from the Remarkable Women in Transport 2023 award ceremony below. The full gallery is available on Flickr. The images are free to use with the copyright 'GIZ Women Mobilize Women'.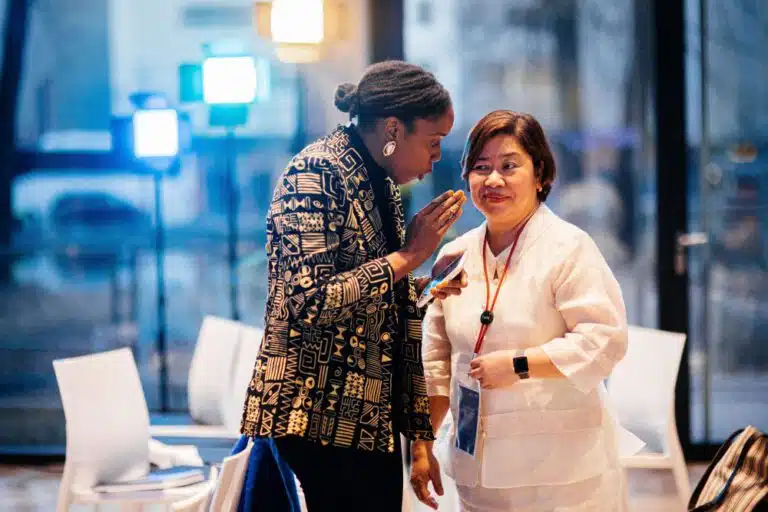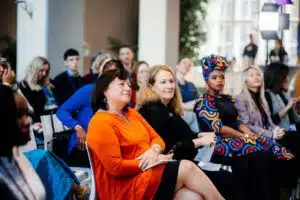 BMZ's new strategy for feminist development cooperation
The three 'R's: Rights, Resources, Representation

Svenja Schulze, the German Federal Minister for Economic Cooperation and Development presented the country's first ever feminist strategy for development policy on March 1st. By 2025, over 90 percent of BMZ's newly allocated project funds should go to projects that further gender equity.
The strengthening of rights including the dismantling of discriminatory laws and norms, equal access to resources, and the equal representation and strengthened influence are crucial factors for a just, resilient, sustainable and peaceful society that leaves no one behind. The "3 Rs" represent the central starting points for BMZ's feminist development policy. BMZ calls on its implementing organizations, including GIZ, to systematically incorporate the strengthening of the "3 Rs" in program planning and implementation.
TUMI project updates on gender and mobility
Inclusive projects around TUMI E-Bus Mission cities in LATAM: Towards equality in the electric field

All around the world, the transport sector has historically been overwhelmingly male dominated, with culturally established gender roles limiting women's participation in the sector. In Europe, the number of women in the sector comes in at only around 22% (or 14% for land transport exclusively) as of 2016; in Latin America, that percentage drops to an average below 11% (as of 2015). Yet the transportation and mobility sector are cross-cutting, providing essential services for those who live in cities. As women represent 66% of public transport users, why should they be less a part of decision-making in the sector than men?
The TUMI E-Bus Mission: Just Transition
The TUMI E-Bus Mission connects cities around the world to work together on the electrification of their bus fleets. Find out about the E-Bus Mission's commitment to the Just Transition and the work we carry out towards a more inclusive and equitable e-mobility sector. In this video, you hear testimonies from experts on the field around many of the E-Bus Mission cities.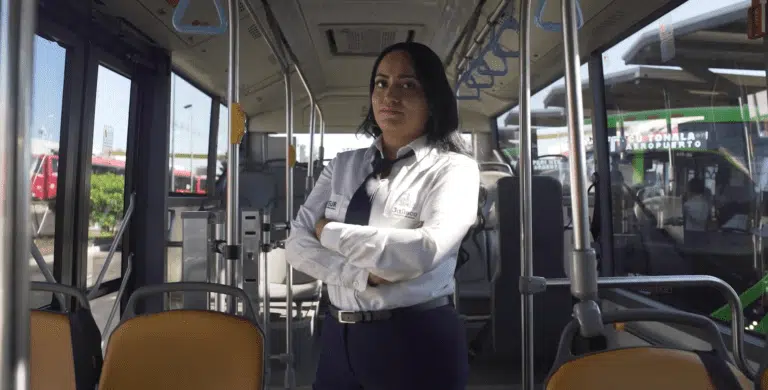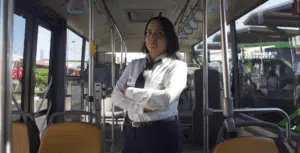 Women at the wheel on public transport in Bogotá
The process of implementing electric buses in Bogotá has set up the task of including more women in the public transport workforce. In 2021, the call "More women in the transport sector!" was created by Transmilenio and the Secretariat of Mobility of Bogotá, to train 300 women in eco-driving for the Integrated Public Transport System of Bogotá. This process not only allowed 260 women drivers to be working today, but has also opened the possibility for allies in the implementation of electric buses in other cities to join this initiative with a gender focus.
TUMI Partner News
ITDP | Webinar: Mainstreaming Women in Mobility

On March 9th, join ITDP in celebrating International Women's Day as we welcome women from ITDP's offices in Indonesia, Brazil, and Egypt in a discussion on the gender and transport-related initiatives they have led over the years, and how they are changing the narrative of inclusion on urban space and mobility in their regions.

ITDP | Article: Cycling's Gender Gap: Breaking The Cycle of Inequality
A critical gender gap exists in cycling — in fact, it is one of the most stark illustrations of gender inequity amongst modes of transportation, and this dynamic persists in city after city. This article from ITDP's Chief Knowledge Officer explores the persistent gap worldwide and offers resources for promoting cycling and training amongst women and girls.

Read more
ADB | Website and events: Gender Month 2023: Accelerating Digital Inclusion for Women in Asia and the Pacific
With the global theme, "DigitALL: Innovation and technology for gender equality," International Women's Day 2023 ADB recognizes the critical role women and girls play in innovation and technology and highlight the importance of women's digital inclusion in building prosperous and sustainable economies. ADB is organizing various events to celebrate Gender Month. From awarding of gender champions, discussions on digital ecosystem for women's empowerment, to a film about a remarkable woman and her journey in the Philippines.
ICLEI | Podcast: Cultivating the Gender Equal City in Umeå, Sweden
The United Nations Biodiversity Summit, COP15, took place in Montreal in December of 2022 – with an entire session dedicated to women. ICLEI asks, "What role does gender play in the creation of sustainable cities?" To find an answer, the hosts sit down with Linda Gustafsson, Gender Equality Officer at the City of Umeå (Sweden). They discuss privilege, men riding the bus, Umeå's involvement in the GoGreenRoutes project and more.
UN-HABITAT | Statement on International Women's Day 2023
Maimunah Mohd Sharif Executive Director of UN-Habitat (and one of the Remarkable Feminist Voices in Transport 2023) and UN-Habitat's Goodwill Ambassador for the Arab region HRH Princess Lamia Bint Majed Saud Al Saud share their perspectives on how technology can further gender-equitable cities.
WRI | Events series
Gender-Responsive Climate Adaptation Event Series at NGO CSW67
14-16 March: WRI is presenting a series of events being held during the NGO CSW67 Forum, at which WRI researchers will share their preliminary findings and discuss barriers and enabling conditions for gender-responsive climate adaptation with experts engaged in funding and implementing this work.
ITDP | Report
Access for All: Babies, Toddlers, and Their Caregivers
Cities could function better for babies, toddlers, caregivers, and families by increasing access to the specific needs and destinations they require for daily living by integrating land use and transportation, while improving the built environment. This report examines how to achieve this with key recommendations for urban stakeholders and decision makers.
ITDP | Course
Mobility and Access for Babies, Toddlers, and Their Caregivers
The ITDP Learning Hub hosts self-paced courses that feature lectures by transport experts, activities to improve skills, strategies, and applied knowledge on transport solutions. This virtual course explores planning, design, and policies focused on children and caregivers (usually women) and explores why it is important to integrate their particular needs into transport planning decisions.