by Daniel Moser
TUMI is turning March into International Women's Month!
It's International Women's Day! To highlight female role models in the mobility sector, we are proud to launch the 3rd edition of the Remarkable Women in Transport publication showcasing inspiring women across the sector. But that's not all: the whole month of March, we will run social media campaigns to bring attention to the topic of gender + mobility and just societies in general.

Highlights
Launch of the Remarkable Women in Transport Publication 2021 – 8th March, 17:00 CET
TUMI TV special #womenmobilize – 8th March, 17:00 CET
We will talk to inspiring female role models such as Dr. Sigrid Evelyn Nikutta, member of the Management Board for Freight at Deutsche Bahn, about all matters related to women and / in mobility. Tune in!
Action required: Join the #womenmobilize campaign
To show the many different perspectives and to draw attention to this important topic we need you!
Think about why – in your opinion – women in mobility are needed.
Write your thoughts on paper (download PDF) and take a photo of you holding up the sign.
Share this on your Social Media (use #womenmobilize) and/or send it to us (women@transformative-mobility.org) so we can wrap up this month with a collection of many people all over the world standing up for women and their needs.
Follow the #womenmobilize on Social Media to stay updated on our campaigns, events, and more.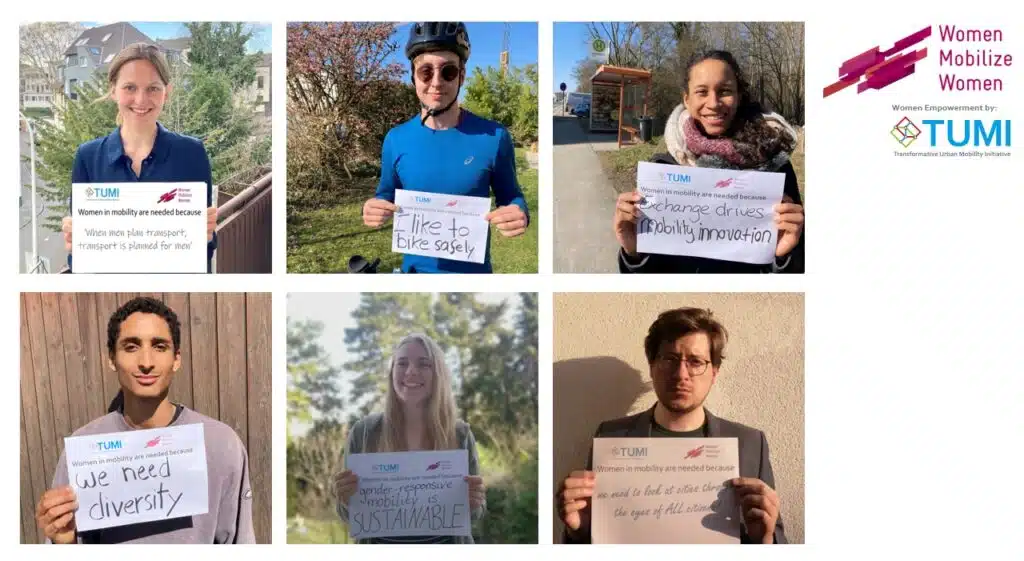 March 15: Transforming Urban Mobility – our online course starts in its 2nd round!
The Transformative Urban Mobility Initiative (TUMI) and the University College of London (UCL) have jointly developed the free 'Transforming Urban Mobility' Online Course which starts off in the 2nd round on March 15! Everyone curious to learn about the relationship between global cities and their transport systems is welcome to join. The course, split into 2 parts of 4 and 5 weeks, includes a wealth of video lectures, interactive tasks, learning material as well as many case studies.
The course is open to everyone at no cost. You can enroll here: https://www.futurelearn.com/courses/introducing-sustainable-urban-mobility and see the course trailer here. The first part introduces a global audience to the Avoid-Shift-Improve approach and crucial elements of urban development and low-carbon transport.
Read more about our online course here: https://www.transformative-mobility.org/news/online-course-transforming-urban-mobility–game-changer-or-first-step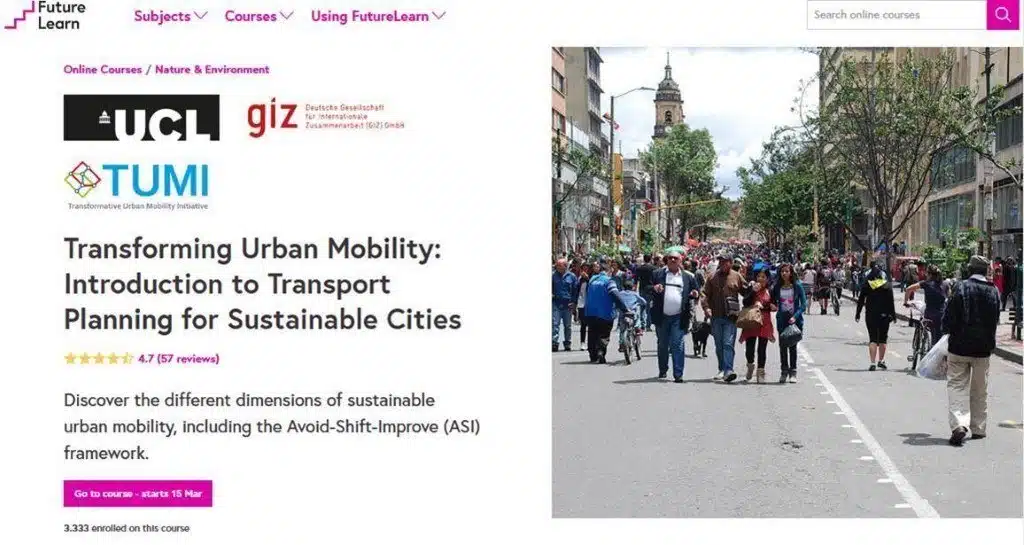 March 19: Apply for the Lee Schipper Scholarship
The Schipper family and the WRI Ross Center for Sustainable Cities, are accepting applications for the 2021 Lee Schipper Memorial Scholarship for Sustainable Transport and Energy Efficiency. Since 2018 the Volvo Research and Educational Foundation is supporting the scholarship through a grant as well as linking the scholars to the VREF network of researchers. The Scholarship will award up to three extraordinary candidates a maximum of $10,000 each to advance transformative research in efficient and sustainable transport. In addition to the annual global call for two scholars, this is the second time in the history of the scholarships that one of the scholarships will be dedicated to the support of a young researcher from the African continent. Please note that the deadline has been extended – applications are due by March 19, 2021. Find out more about the Lee Schipper Memorial Scholarship here.
More news from around the world
This award comes from our TUMI Partner ITDP, a leading global organization that promotes and develops different forms of environmentally sustainable mobility. Lviv applied for the Sustainable Transport Award based on their achievements in reconstructing their Station Square, as well as brining forward their Sustainable Urban Mobility Plan (SUMP), working on public transport promotion and further developing the city's cycling infrastructure.
Find the full information here: Lviv STA Award 2021 Find the Ceremony Recording here: https://www.youtube.com/watch?v=zXCk0x-QbSM
India: Executive Program in Sustainable Transport (February 22 – March 5)
With many TUMI Partners involved, the SMART-SUT project from GIZ India has just finished the initial, two-week long part of its Executive Training in Sustainable Transport for city officials in India. Please see social media impressions for more. For a general overview of recent SMART-SUT activities to support Indian partners in planning and implementation of sustainable urban transport systems have a look at the update from the India team: SMART-SUT Project Update Feb 2021
HVT: How can the needs of women in urban areas be considered in a post-COVID-19 world?
This research looks at the unforeseen risks and impacts of the rapid responses in Sub-Saharan African cities due to the COVID-19 pandemic that affected, and will continue to affect urban women with low incomes, and makes suggestions on short- and longer-term ways forward to drive gender equity goals and impacts. Read the paper here
Best regards & stay healthy
Daniel