By Daniel Moser
On October 13th, we will celebrate the TUMI 5 Year Anniversary!
We are celebrating five years of ambitious actions towards a global transformation of transport, with amazing and committed partners. The current decade is critical for shaping sustainable mobility towards reaching the climate objectives, and ensuring a livable urban future. This anniversary does not cause us to rest on our laurels. On the contrary – together with our TUMI partners, we want to fight even more ambitiously, even more successfully and even more committedly for a green and inclusive future of mobility.
Get involved and featured! Send us your key sustainable mobility achievement and/or one sentence describing TUMI for you by September 24th.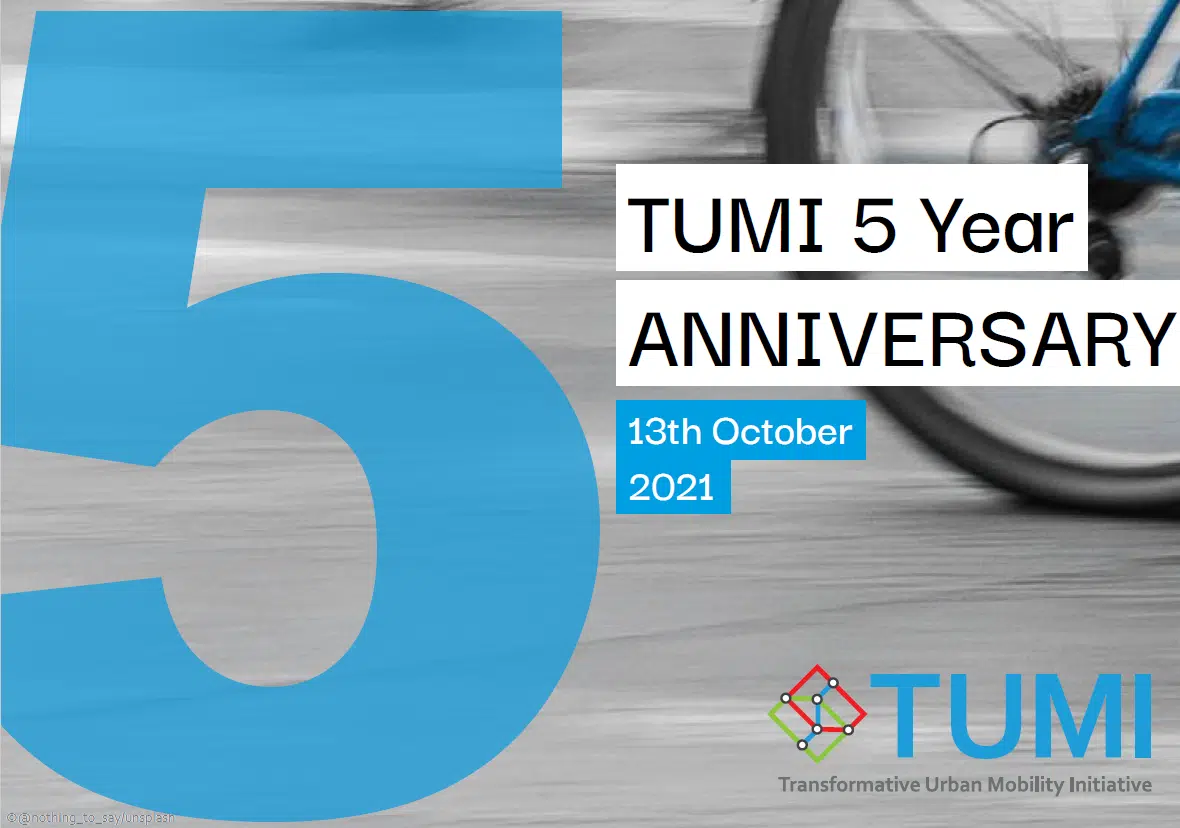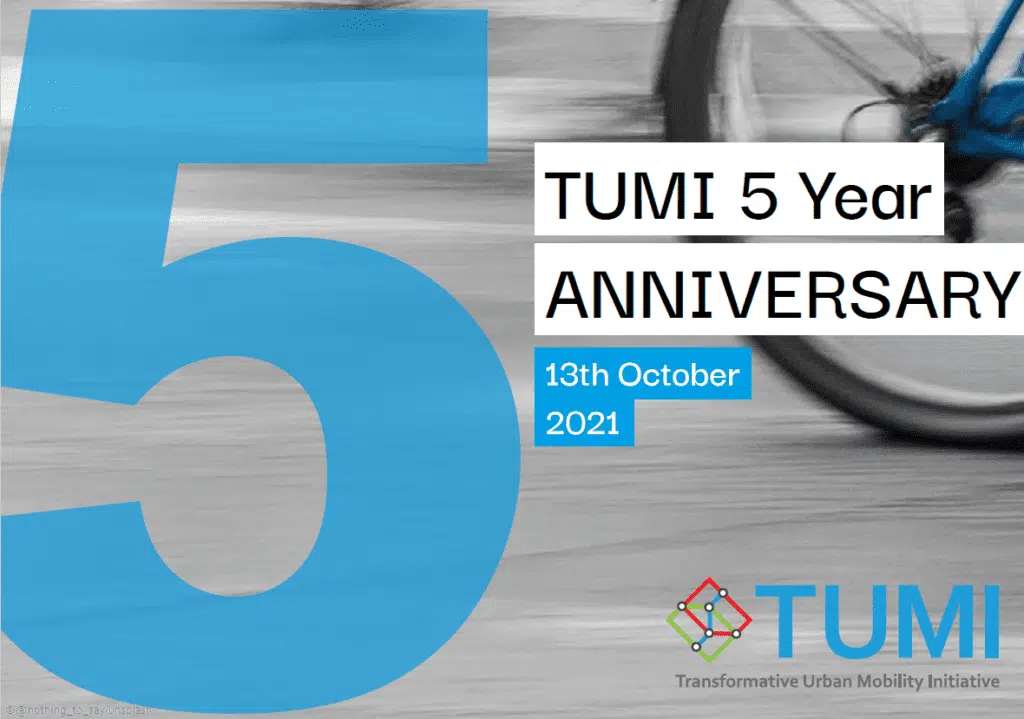 Starts 4th October: 'Transforming Urban Mobility: Introduction to Transport Planning for Sustainable Cities'
???? What's wrong with cars in cities?
???? What does sustainable mobility really mean?
???? How can transport systems make our cities prettier, healthier and livable?
Together with the University College of London (UCL) TUMI set out to answer these questions in our free on-demand online course. Join more than 7500 learners to boost your knowledge on transport planning in cities. The next course run starts on 4th October 2021.
Enroll now and get key insights on sustainable mobility from international thought leaders: https://www.futurelearn.com/courses/introducing-sustainable-urban-mobility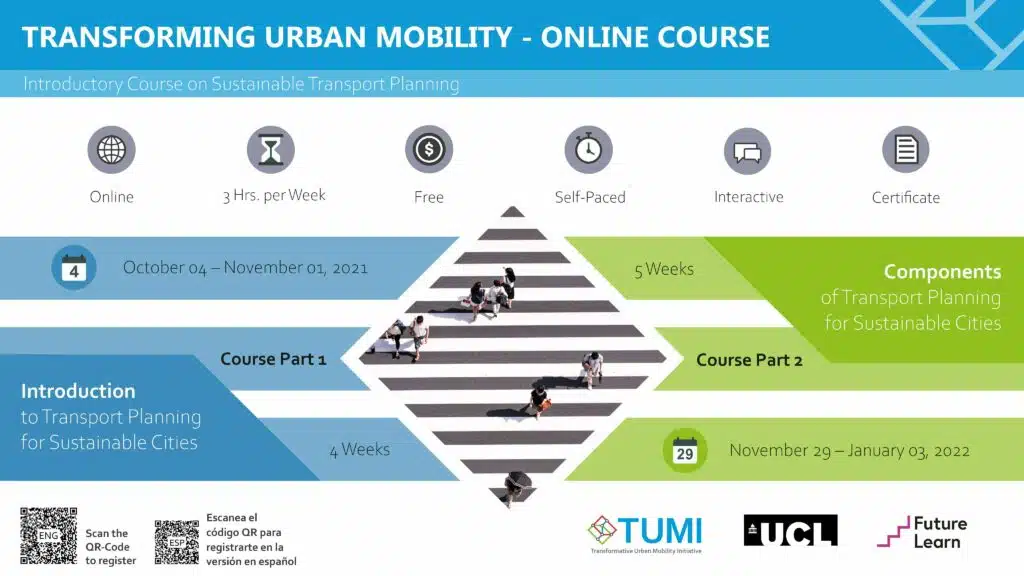 New Milestone: 11 cities already committed to TUMI E-Bus Mission
With Mumbai, India, Kampala, Uganda and Jakarta, Indonesia the first Asian and first African cities now joined the TUMI E-Bus Mission to accelerate E-Bus deployment around the world. Learn more about the project under: TUMI E-Bus Mission and follow the TUMI E-Bus Mission on Twitter: News on TUMI E-Bus Mission
TUMI Challenge Fortaleza: Waste pickers start using electric tricycles
Check out this brand new piece on our engagement around the circular economy, working with waste pickers and enabling electric tricycles for recycling solid waste. Increased safety, recognition and respect in their jobs are just some of the positive outcomes. Read the article in English
or Portuguese
and watch the interview with Carliane on TUMI's Youtube Channel.
Get to School Sustainably! TUMI Challenge Zhytomyr, Ukraine
So much has happened since the kick-off of this TUMI Challenge in September 2019! Together with the City Development Agency of Zhytomyr, infrastructure improvements and conditions for active and sustainable modes of transport were improved around 4 schools and for hundreds of students. Watch the outcome, including tactical urbanism actions on TUMI's Youtube Channel. And – just released: "School Mobility: Improving Saftey and Comfort of Students Traveling to School"-Guidebook!
Urban Leaders – Global Program 2021 kicked-off
Empowering women through knowledge and mentoring is the guiding principle of the Urban Leaders – Global Program which will kick off on October 4th. The program is co-created by Mujeres en Movimiento – Women in Motion (WIM) and WomenMobilizeWomen (WMW – TUMI), and supported by GIZ, AFD, CAF, Despacio and Flone Initiative and aims at ensuring women's participation in the urban workforce, promoting female role models and empowering each other. Read more here!
New Publications
Partner News
Reimagining public transport in India through electrification
As part of its national efforts to further conversations amongst stakeholders in India's efforts to transition to electric mobility, WRI India together with TUMI organized this webinar. A transition to electric buses requires a complete reimagining of bus system as opposed to operations of Internal Combustion Engine (ICE) buses. Consideration of multiple factors such as battery sizing, siting of charging infrastructure, route planning, charging infrastructure scheduling, among others is required for electric bus planning. Watch the full discussion here.
Asian Transport Outlook Database released
ADB released Policy Workbook covering 51 economies in the Asia Pacific Region. It includes 537 transport related targets covering subsectors like infrastructure, road safety, air pollution, and climate change.
Find all info here.
Global Program "Urban Shift – Transforming Cities for People and Planet
TUMI Partners C40 Cities, WRI, ICLEI and ADB are partnering up with the Global Environment Facility (GEF) and UNEP for the global program UrbanShift. It supports cities around the world to adopt integrated approaches to urban development, building a sustainable and inclusive future where both people and planet can thrive. Read more here.
Stay tuned for these events and highlights:
October 16 – 18: Following the first conference, held in 2016 in Ashgabat, Turkmenistan, the second United Nations Global Sustainable Transport Conference will indicate a way forward for sustainable transport to help achieve the objectives of the 2030 Agenda for Sustainable Development and the Paris Agreement on climate change in the Decade of Action.
We have less than 2 months left until the 26th UN Climate Change Conference of the Parties (COP26) in Glasgow on 31 October – 12 November 2021. Time to accelerate transport action towards the goals of the Paris Agreement and the UN Framework Convention on Climate Change! Please let us know about your key actions towards COP26.
Best regards & stay healthy
Daniel