Welcome to the April issue of the TUMI E-Bus Mission update!
We are delighted to present the latest edition of our monthly update as we step into the second quarter of this year!
Our team has been actively engaged in various activities throughout March, covering five continents by traveling to different cities. We were thrilled to participate in Africa's first E-Mobility Forum in Dar es Salaam, Tanzania, where significant strides were made towards the integration of e-mobility in the region. Additionally, our commitment of promoting gender equality in transportation continues, as evidenced by the latest study on women bus drivers in Jalisco, Mexico.
We invite you to read this update for more exciting news and events from our deep dive and network cities.
Enjoy!
Your TUMI E-Bus Mission Team
Number of the Month
Participants of our E-Course come from 126 cities!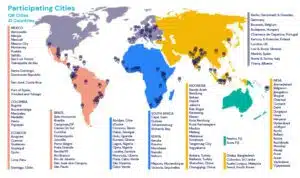 We are happy to announce the success of our E-course: Digitalizing E-Bus Projects! The course has attracted participants from 123 cities all around the world, spanning 5 continents. We are proud to have created a thriving and growing community of professionals dedicated to promoting sustainable and eco-friendly transportation solutions.
The TUMI E-Bus Mission E-course still welcomes new participants! Join this training to learn how to plan, procure and achieve improved operations efficiency of e-bus projects with digital tools.
Regional E-Bus Mission Highlights
The first E-Mobility Forum in Africa!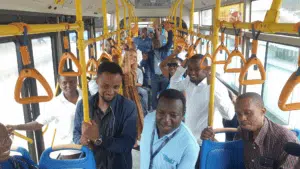 Photo: Annika Berlin
The first Africa E-mobility forum brought together around 100 delegates from over 20 African cities, including government officials, financiers, and companies working on the transition to electric mobility in the region. The forum aimed to enhance knowledge of e-mobility, discuss policies and barriers for its introduction in Tanzania, showcase private sector innovation, and connect financiers with companies needing financing for e-mobility projects. Participants shared country and city level experiences, learned about electric buses and end-of-life management of electric vehicle batteries, experienced the set-up and operation of the Dar es Salaam BRT, and presented support mechanisms for e-mobility in Africa.
Driving towards gender equity with e-buses!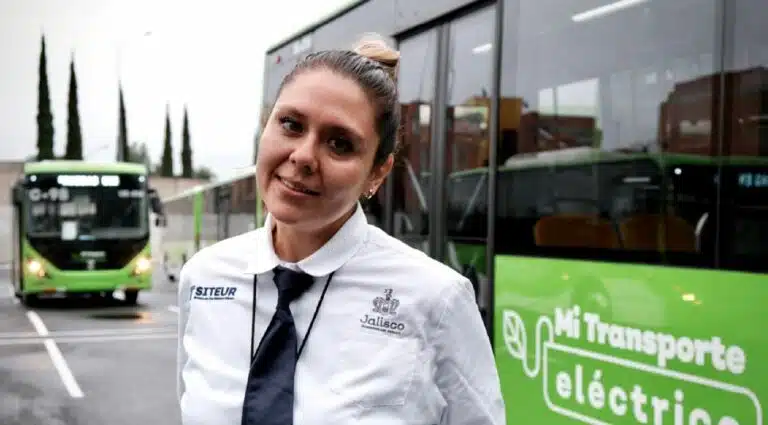 Photo: Government of the State of Jalisco
We are thrilled to announce our TUMI E-Bus Mission publication "Inclusión laboral femenina en el transporte público. Estudio de caso del Programa Mujeres Conductoras en Jalisco, México" by Gabriela de la Torre Ríos and Joselyn Delgado Miranda, which documents and analyzes the Mujeres Conductoras Program in the state of Jalisco. This program has been implemented to address the lack of female drivers in the Latin American public transportation sector, where women currently represent only 15% of the workforce on average. The research highlights the importance of promoting training and professionalization opportunities for women to increase gender equality and inclusion in this field, and sheds light on the challenges they face in accessing and remaining in this industry.
Promoting sustainable and equitable e-mobility policies in Mexico and Colombia
Photo: Héctor López / WRI Mexico
The "Encuentro Electromovilidad y Transporte Público en México: una transición posible y sustentable" event was held on March 15th in the Utopías Meyehualco park in Mexico City's Iztapalapa neighborhood. The event aimed to promote the implementation of sustainable and equitable e-mobility policies and showcase successful experiences in gender and social inclusion in Bogotá and Mexico City. The panel, led by Joselyn Delgado and Gabriela de la Torre of WRI Mexico, included the testimonial of Melisa Díaz, a driver at La Rolita, and Sergio Gil, an electric bus driver at Movilidad Integral de Vanguardia (MIVSA), discussing their experiences and positive impacts. The event hoped to sensitize and strengthen the stakeholder ecosystem to promote e-mobility electrification not only in Mexico City, but also in other cities in the country, considering a just transition.
Jakarta's sub-coalition workshop aids TransJakarta's e-bus deployment goals
Photo: Yoga Adiwinarto
Led by C40 Cities, together with World Resources Institute (WRI) Indonesia, the TUMI partners, organized a Finance Roundtable Workshop for TransJakarta as part of their sub-coalition building work under the TUMI E-Bus Mission. The workshop provided expert insights and networking opportunities for TransJakarta to support its ambititous electric bus procurement program. The workshop was followed by a site visit to Transjakarta's e-bus project premises. The event was attended by officials from the Jakarta Provincial Government, Trans Jakarta, World Bank IFC – International Finance Corporation, KfW IPEX-Bank, and local public transport stakeholders. The workshop also presented international case studies from other E-Bus Mission deep dive cities, showcasing successful models for e-bus deployment and finance.
Global city dialogue & study tour at Autonomy Urban Mobility Summit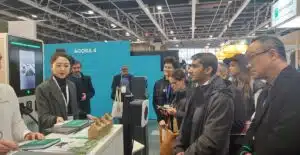 Photo: Heba Mousa / ICLEI
ICLEI-Local Governments for Sustainability organized the TUMI Global City Dialogue and Study Tour at the Autonomy Urban Mobility Summit. The dialogue aimed to facilitate the peer-to-peer exchange, private sector engagement, and offered a stage for high-level discussions on the future of urban mobility. Over the four-day event the cities learned about digitalization approach for e-bus projects, shared their experiences with a larger audience on stage, explored pitches of selected solution providers, jointly visited around 20 private sector booths at the expo and participated in a study tour with the Île de France Mobilités team.
Takeaways from Transforming Transportation
Photo: Jens Giersdorf / TUMI
The Transforming Transportation conference organized by the World Bank and WRI Ross Center for Sustainable Cities addressed ongoing challenges such as climate change, COVID-19, and macroeconomic instability, aiming to reimagine transport for inclusivity, safety, sustainability, and efficiency, and provided a platform for transport professionals to learn, engage, and create new connections. The Institute for Transportation and Development Policy (ITDP), sponsored by the ClimateWorks Foundation, organized Session 10 of the conference, which focused on the electrification and compact design of urban spaces, and discussed the challenges and opportunities for achieving these goals. The speakers emphasized the need for simultaneous electrification of vehicles and development towards compact cities designed for active mobility and public transport to achieve the 1.5°C target. Additionally, they stressed the importance of engaging with departments such as finance, energy, and urban planning to achieve compact and electrified cities, and tackling challenges such as institutional and political fragmentation in cities of the Global South.
Launched: India's zero emission bus market investor's guide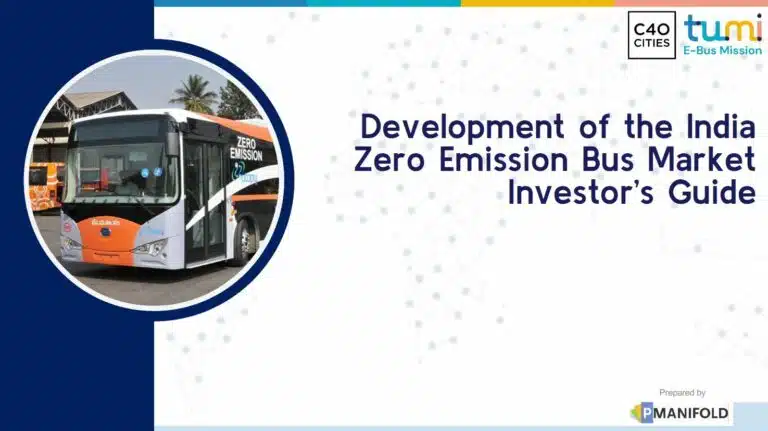 The "India Zero Emission Bus Market Investor's Guide" was virtually launched on 26th March. It aims to promote new investment in the implementation of zero emission (ZE) buses in India. The guide functions to provide city officials and public transportation teams with an understanding of the business models for ZE bus deployment, to guide bus manufactures interested in producing ZE buses, and to attract potential investors, including those interested in providing both debt and equity for ZE-bus projects. The guide addresses the needs of manufacturers and investors by providing them an overview of Indian market, six cities market readiness, ZE bus investment overview and how to invest in India.
E-Bus energy and infrastructure – Watch our latest YouTube video!
This video highlights how electric buses and renewable energy can contribute to addressing climate change, improving local air quality, and public health.
TUMI E-Bus Mission Events
Workshop: Improving the Circularity of E-bus Batteries — Measures for procurers, operators and policy-makers
When? Wednesday, 26 Apr 14:00 – 17:30 IST
Where? Habitat Center – Lodhi Road, New Delhi
TUMI has partnered up with the Indo-German Green Urban Mobility Partnership (GUMP) to organize a workshop in New Dehli on the circular economy in E-Buses. The TUMI E-Bus Mission and Öko-Institute will present a measures catalogue for the inclusion of circular economy principles into e-bus planning and procurement, aiming to improve the circularity of e-buses and their batteries and collect feedback on the catalogue. The event is followed by a 2-day study tour to recyclers involved with the end-of-life management of vehicle batteries.
We hope you enjoyed our recent updates!
You're not subscribed to this newsletter yet?