By Daniel Moser
Launch on November 10: TUMI Transport Outlook 1.5˚C – A global scenario to decarbonise transport

The Transport sector is still responsible for almost a third of GHG emissions – and future trends are not looking any less troubling!
Thus, climate action in transport is urgently needed. However, a clear-cut transformation path, is missing. To close this gap TUMI and the University of Technology Sydney developed a robust scenario study: the TUMI Transport Outlook 1.5˚C.
Join the Side Event at COP26 today, on 10 November at 15:30 UK time via the German Pavilion for further elaboration on "Decarbonizing Transport Now – How decarbonized transport will achieve the Paris Agreement goal" and follow the Report Launch by GIZ Chair of the Management Board Tanja Gönner.
Check it out and download the TUMI Transport Outlook 1.5˚C already!
Follow #TUMIOutlook on Twitter!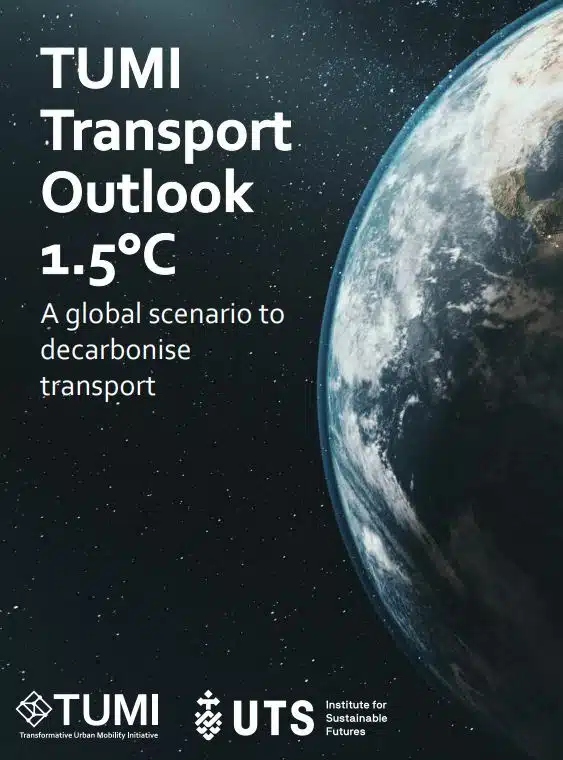 Further event highlights
November 12: Find TUMI at the COP26 in the EU Side Event presenting the E-Bus Mission in the context of "Transitioning to Zero Carbon Mobility in our Cities: linking transport Energy, Climate and Health", 17:30 UK time. The panel discussion with policy makers, city representatives, industry experts and researchers will give insights on clean transport adoption in cities as part of climate mitigation and public health action. Register and join the event here.
November 24, 10:00 – 11:00 am CET: Join the next TUMIVolt Charging Station on the E-Bus Performance Evaluation Competition in China. We are going to introduce the China Electric-Bus Performance Assessment Competition (EB-PAC) as a tool to stimulate competition between e-bus manufacturers to strengthen e-bus future performances. Find all information and register here.
News
Women Mobilize Women goes electric – Support the #ElectricWomen Campaign
We are convinced: Women play a critical role in shaping the zero-emissions mobility transformation. Electrification of transport needs to gain momentum globally in the coming years to decarbonize transport in alignment with the 1.5-degree target. Through the #ElectricWomen campaign, Women Mobilize Women will highlight the role of women in electrifying mobility around the world.
Want to support the campaign? Here's how!
Nominate the most remarkable women in electric mobility you know – starting on November 15th. Through an open call for nominations, we want to identify the most inspiring #ElectricWomen around the world.
Winners will be announced on International Women's Day 2022 (March 8th). Find more information on the Women Mobilize Women website.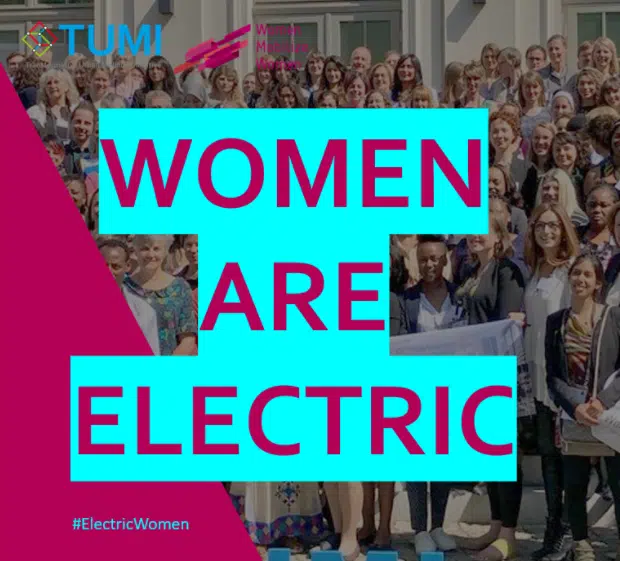 #mobilizeminds: Start of Online Course Part 2 – 29 Nov: 'Transforming Urban Mobility: Components of Transport Planning for Sustainable Cities' Join more than 9000 learners to boost your knowledge on challenges of car-centric planning and example solutions for walking, cycling, public transport and electric mobility. The course is available in English and Spanish!
Part 1 of the course will be open until November 22 – so you can still enroll and get key insights on sustainable mobility from international thought leaders and discuss with fellow learners from all over the world:
Furthermore Part 2 of the course is about to start on November 29. We'll examine different types of sustainable Mobility with case studies in Bogotá, Dar es Salaam, Freiburg, Guangzhou, Kigali, London, Medellín, Rio de Janeiro, Shenzhen, Utrecht and Valenciennes.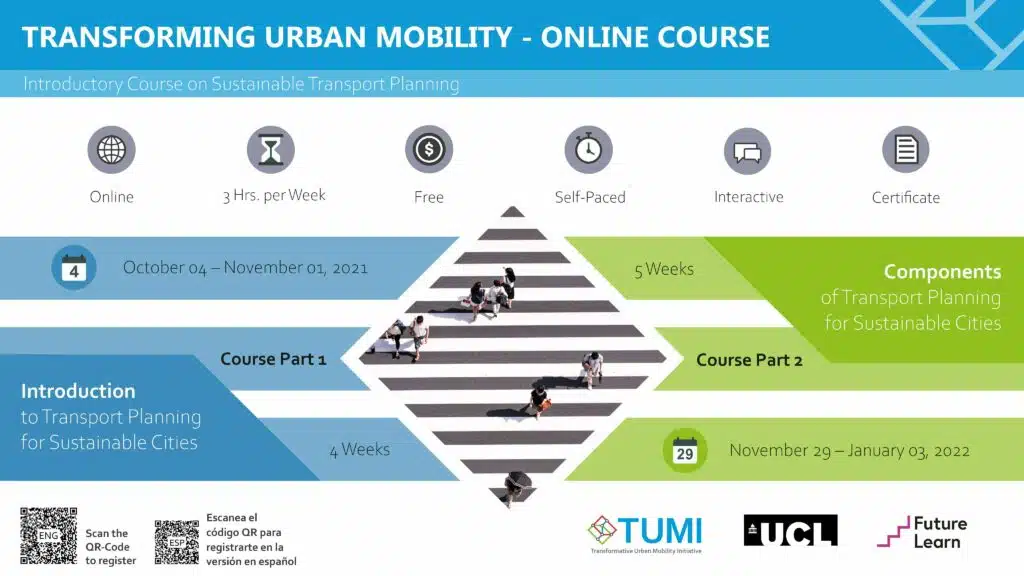 News on TUMI E-Bus Mission
Delhi and Bengaluru are officially joining the TUMI E-Bus Mission to further accelerate E-Bus deployment. With three Indian cities on board of our E-Bus Mission we are getting one step closer to electrify public transport around the world!
Global City Insights into Electric Bus Planning from the Transformative Urban Mobility Initiative (TUMI) – Webinar by WRI The TUMI E-bus project is made up of an international coalition working to assist 20 global cities in creating world-leading electric bus fleets and scaling e-bus adoption to hundreds more through city-to-city mentorship. In this webinar event, TUMI city leaders shared their experiences using data-driven tools and planning methods to accelerate their transition to an electric transit fleet: watch here. Read more here on the TUMI E-Bus Mission.
Lviv wins first prize in "Better City" – Contest 202 in the category "Mobility"
The Center for Environmental Initiatives Ecoaction, a Non Profit civil society organization, brings together experts and activists for joint action to protect the environment. Ecoaction has launched the "Better City" – Contest 2021, in which Ukrainian cities can apply to compete against each other in the categories "Air" and "Mobility". TUMIVolt Pilot City Lviv, together with the City of Chernihiv, won the first prize within the group 250,000+ inhabitants, in the category "Mobility" – Congratulations!
Find all news on TUMI's work with Lviv here!
New Publications
New Sourcebook "SUTP Module 5f – Adapting Urban Transport to Climate Change: A Sourcebook for Policy-makers in Developing Cities" The Sourcebook module developed jointly with the Islamic Development Bank is a key resource for policy-makers in developing countries to help their cities and transport systems cope with the increasing climate disasters caused by climate change and thereby prevent severe disruptions in the transport network. It provides policy tools suitable for use in a range of developing cities in the form of step-by-step guides as well as best practices for planning and regulation. Download the sourcebook here and follow the discussion via #adaptation on Twitter.
Strolling Tirana – A sustainable mobility guide for Tirana now available in Albanian! 'Strolling Tirana' lets you discover Tirana by foot, bike and bus. It shows you how easy it is to get around by these modes and takes you to all the must-see places as well as hidden gems. Eja dhe zbuloje vetë qytetin sa më shpejt të mundesh! Find the recently published Albanian Version here or check it out in English.
A new TUMI Update, a new TUMI Podcast episode: In our latest Talking Transport Transformation Podcast episode we had the chance to talk to Dr Katherine Collett about her interesting research work on the implementation of e-mobility solutions in Sub-Saharan Africa and the regions' cross-disciplinary challenges associated with transitioning towards net-zero. Find all our episodes on various topics around sustainable mobility solutions in cities here.
Partner News
Recap: #UrbanOctober
This year's Urban October focused on climate action along with the UN-Habitat's "ClimateAction4Cities" campaign. The campaign ran under the hashtag #UrbanOctober. This was the TUMI daily #UrbanOctober quiz: thread.
Check out these events that took place with TUMI and TUMI Partners:
October 2 – 3: Under TUMI Challenge: 'Reimagining Fort Kochi Project' + SMART SUT and GIZ India transformed the city of Kochi under the National level Event 'Azadi ka Amrit Mahotsav'. The city has been taking active strides to make Kochi India's cycling capital. Find the thread of full transformation in here.
October 4: E-Learning Course: "Transforming Urban Mobility" kicked-off again in English and the first time in Spanish, too. The course aims to help to discover the different dimensions of sustainable urban mobility, including the Avoid-Shift-Improve (ASI) framework.
Join English Course Part 1
Join Spanish Course Part 1 [Developed in cooperation with Euroclima+]
October 4: Based on online teaching methodologies, collaborative and practical learning, and the development of urban projects, the TUMI-WomenMobilizeWomen / Mujeres en Movimiento Global Urban Leaders program kicked off. The first networking event was held on October 12 : https://mujeresenmovimiento.net/.
October 4: World Habitat Day is celebrated annually on the first Monday of October to reflect the condition of our habitats and the right of everyone to adequate housing. Under this campaign, ITDP CEO joined a panel hosted by UNHABITAT -called "Urban Climate Action through Low-Carbon Planning and Mobility." The panel can be accessed again in here.
October 5: Launch of Sourcebook "Adapting Urban Transport to Climate Change" is launched with support of IsDB Group, SUTP and TUMI during 6th International Climate Change Adaptation Conference! The sourcebook can be accessed in here.
October 13: We celebrated TUMI 5 Year Anniversary with the motivation to fight for a green and inclusive mobility future and with support of international guests and live discussions. Re-watch the 2 hours Live celebration here. All posts about the event and can be accessed on social media #TUMI5YearAnniversary.
October 20 – 21: #CIVITAS2021 Forum took a place this year on the context of discovering smart routes towards climate-neutral cities as a live event in Aachen. While incorporating intriguing new program features, the event maintained its reputation of presenting participatory workshops, engaging discussions, and informative site visits. More information about forum can be found in here: https://civitas.eu/forum2021
October 28: Impulses for Green Recovery and the Transition of Transport Ingrid-Gabriela Hoven, Member of the Management Board of GIZ and Prof. Dr. Dirk Messner, President of the German Federal Environment Agency (UBA) discussed the Transition of Transport for Germany and international cooperation. The event was jointly organised by the Federal Environment Agency (UBA) and GIZ. Watch the recording here.
Best regards & as always – stay healthy,
Daniel