Highlight of the Month
Newly Launched E-Course: Digitalizing E-Bus Projects

This online course offers public transport utilities and practitioners detailed information on how to implement future ready e-bus projects with the latest digitation tools and services. It adopts a specific focus on the use of digital tools at three different stages of e-bus projects: planning & procurement, operations monitoring & management and project performance evaluation.
Link to the Website here
To register, write us at: ebus@transformative-mobility.org
TUMI Events
Towards Meaningful Investment in Public Transport, Walking and Cycling | SLOCAT Transport Day at COP 27
Monday, 6 Nov – Friday, 18 Nov | Location: Sharm El-Sheikh, Egypt
From 6-18 November 2022, the Government of the Arab Republic of Egypt will host the 27th Conference of the Parties of the UNFCCC (COP 27), with the aim of accelerating global climate action through emissions reduction, scaled-up adaptation efforts and enhanced flows of appropriate finance, recognizing that 'just transition' remains a priority for developing countries worldwide. TUMI co-sponsors the SLOCAT Transport Day at COP 27 on 15th November, dedicated to the topic of enabling meaningful investment across Walking, Cycling and Public Transport towards a transformative systemic shift in mobility.
TUMI E-Bus Mission City Network On Tour (City Dialogues)
The TUMI E-Bus Mission City Network On Tour brings regional city representatives together back in presence to discuss e-bus related topics and share their experiences in the transition to e-mobility. These sessions promote city-to-city learning and stimulate regional cooperation. We are accelerating the worldwide mass roll-out of e-buses together!
Learn more about the participating cities here
Thursday, 10 Nov | Mexico City, Mexico
Capacity Building and Stakeholder Alignment for Accelerating the Adoption of E-Buses in Mexico | Mexico
Monday, 21 Nov | Salvador, Brazil
E-Buses: Operational Models, Financing and Just Transition in Brazil | Brazil
Contact us here to participate!
TUMI E-Bus Mission at SITCE 2022 | 4th November
Monday, 2 Nov – Friday, 4 Nov | Location: Singapore
The leading public transport event in the Asia Pacific region, the LTA-UITP Singapore International Transport Congress & Exhibition (SITCE), is taking place from November 2 – 4! If you're planning to join, don't miss out on the session 'Accelerating E-Bus Implementation and Adoption in the "Global South"' where Jens Giersdorf, Management Head of TUMI, joins the discussion.


TUMI Focus Area News
TUMI E-Bus Mission | TUMI E-Mobility
Sustainable Mobility and Climate Week 2022 in Dakar – Recap
In the run-up to COP 27, MobiliseYourCity and TUMI facilitated a stakeholders dialogue on sustainable urban mobility in Dakar through the TUMI E-Bus mission network city-to-city learning exchange and the MobiliseYourCity African Community of Practice meeting with 20 city and country representatives from all over the African continent.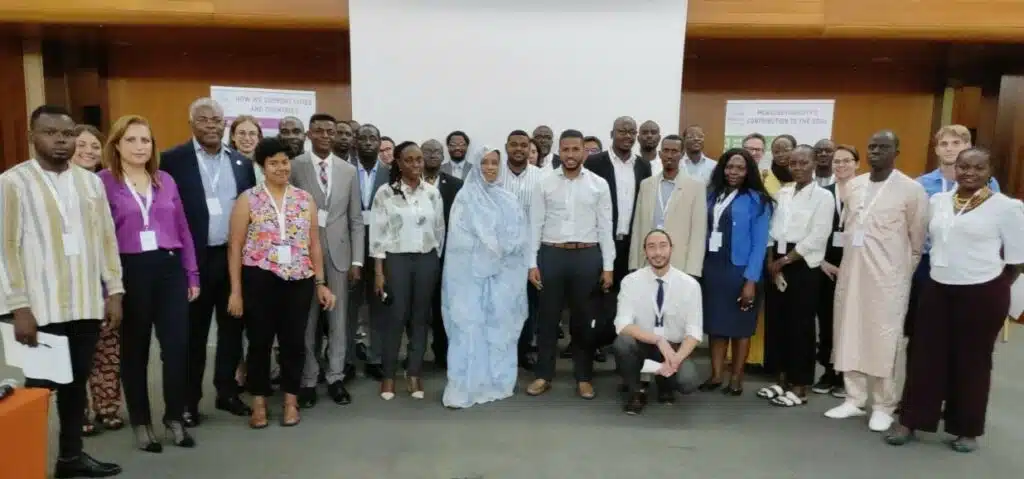 Dedicated TUMI E-Bus Mission Newsletter launched!
We are excited to announce the very own TUMI E-Bus Mission Update! Coming to you on a monthly basis, we inform you of all the global happenings on the path to rolling out e-bus fleets! Subscribe here and read the very first edition here.
For any updates between the issues, we recommend checking out the TUMI E-Bus Mission Website: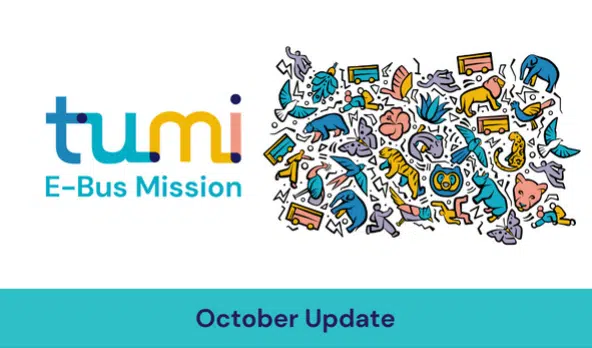 Bringing Transport to COP27
We were delighted to be part of #SuM4All's discussion on "Bringing Transport to COP27" on September 5th. The event hosted a series of lightning talks and an insightful discussion on e-mobility in African low-income countries. TUMI as co-lead of the e-mobility working group presented a glimpse of the joint work on a decision-making tool for e-mobility investments, which will be launched at COP27.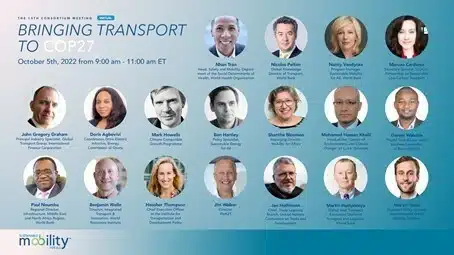 Electric Mobility as a Driving Force for a Just Transition
The road towards a Just Transition in the Transport Sector must comprise the decarbonization of vehicles! For one entire week, the Transformative Urban Mobility Initiative (TUMI) therefore put a spotlight on electric mobility in the campaign on #JustTransition in the run-up to COP 27. We shared resources and discussed the potential of electrification to
· reduce CO2 emissions
· create green jobs
· promote shared modes of transport
· expand public transport accessibility
Follow TUMI on Twitter for stories of people who are ambitious to drive electric mobility forward. Get policy recommendations, financial assessments, reports and various case studies on cities from diverse regions!
Find all the resources on e-mobility for just transition here
Women Mobilize Women
New blog entry
How can we move towards Safe and Empowering Streets and Public Transport Systems for Women and Girls in Latin America?
Getting around a city as a woman can be a big challenge, not only because of the countless care trips we make; expensive transport fares (relative to our income), or inaccessible sidewalks but also because of the sexual harassment many of us face. Improving women's travel experiences and having girls' and women's voices and participation in decision-making is key for cities to move towards more sustainable and inclusive modes of transportation.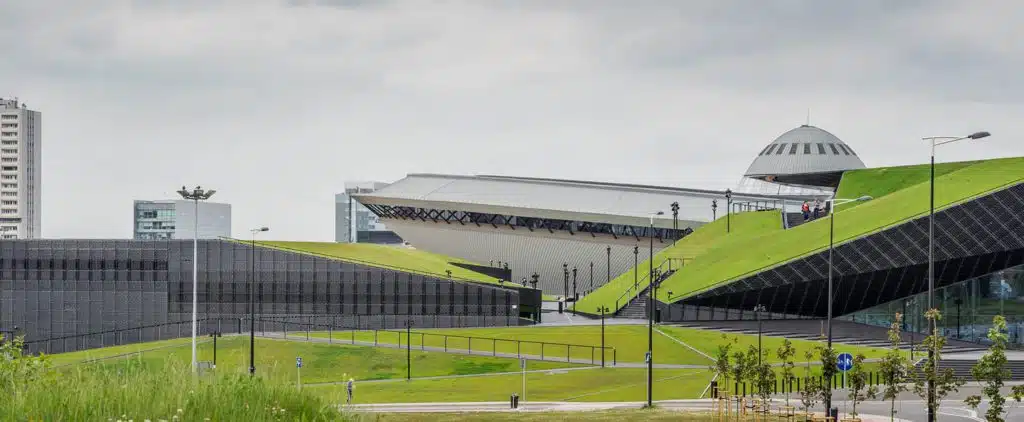 Open internship position
The Women Mobilize Women team is seeking support of an intern from January to June 2023. Do you know someone who would be interested? Spread the word! Please send applications to: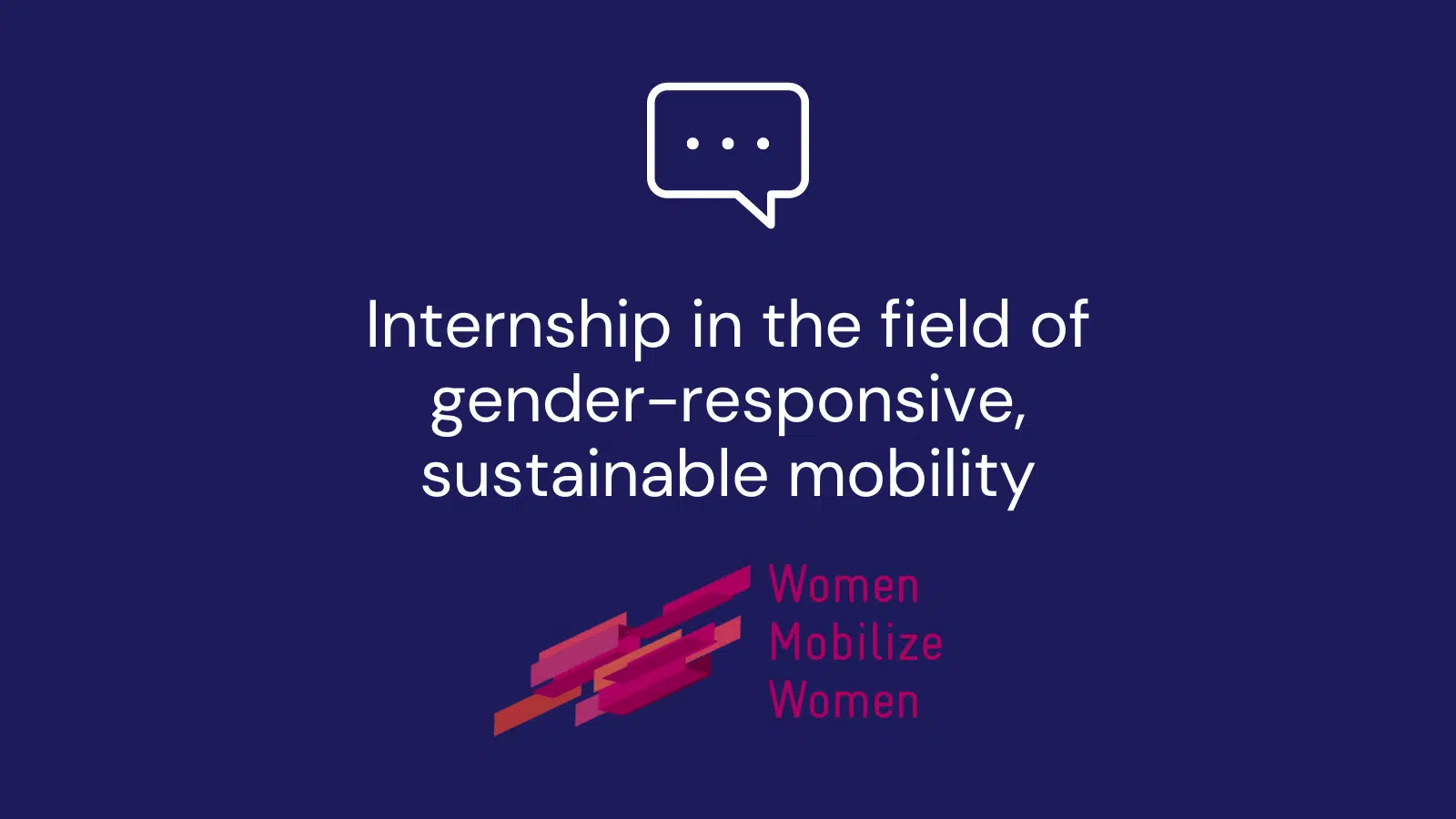 #MobilizeMinds
Achieving Transitions to Zero Carbon Emissions and Sustainable Urban Mobility
Cities in developing countries are faced with a choice of repeating the evolutionary mistakes of many of the cities in more developed countries, or 'leapfrogging' car-oriented mobility to more sustainable cities. But how to make a good choice?The online course "Achieving Transitions to Zero Carbon Emissions & Sustainable Urban Mobility" by UCL, ICLEI and TUMI on behalf of EIT Mobility is shows how pathways are used to identify suitable transport policies.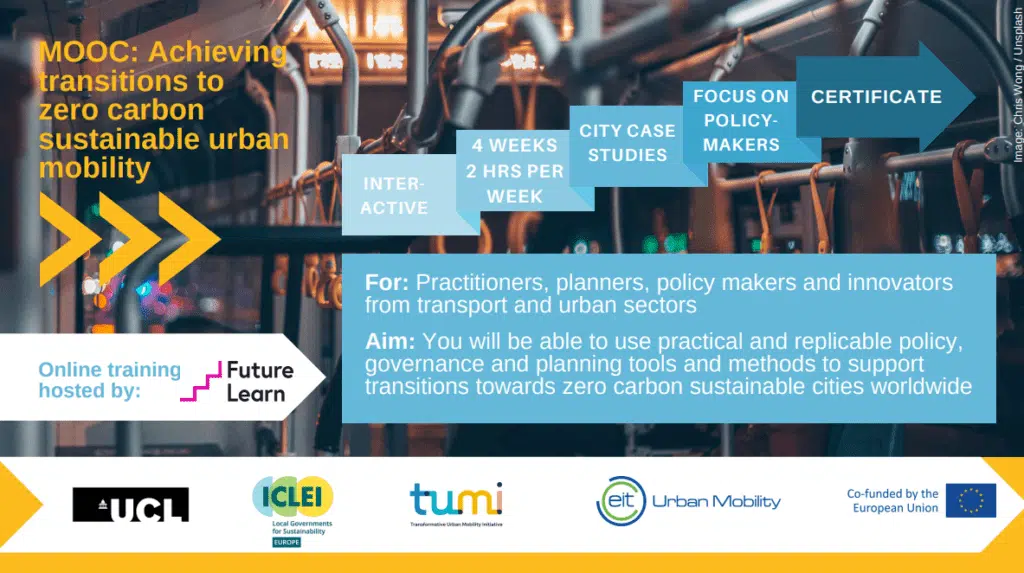 TUMI Data
Seven Key Datasets for Mobility Planning

Cities have to confront the effects of urbanization, climate change and the ever-growing use of private motorized transport. To manage these impacts, decisions need to be made on the basis of accurate, up-to-date data. TUMI is introducing seven datasets and their application value useful for the analyses of mobility in urban areas. Check out the publication and let us know what other datasets you consider valuable and for which pressing mobility question!
The Urban Mobility and Transportation Domain of the 100 Questions Initiative
The Governance Lab (The GovLab) along with TUMI, CAF Development Bank of Latin America, and the New Urban Mobility Alliance (NUMO), releases the final report detailing the outcomes of the 100 Questions Initiative's Urban Mobility and Transportation domain. The Initiative brought together Bilinguals – experts in the field of mobility and data science – to identify the most pressing questions for the sector. Take a look at the priority questions selected and the developed topic map of the urban mobility and transportation domain!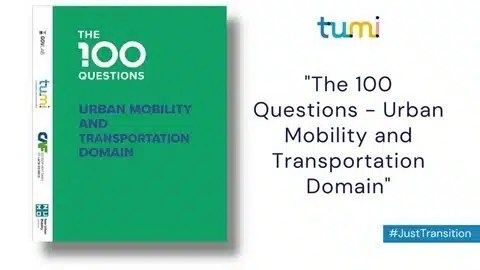 Just Transition Campaign on data
As thematical topic of the 7th campaign week, TUMI focused on the potential of data to support a Just Transition in the Transport sector! Data is a crucial enabler for more informed, efficient decisions about sustainable mobility & transport planning. Look into our Just Transition Website for all featured resources on data. You will find an informative podcast and partner publications on the role of data in city planning, descriptive infographics, database and trackers for climate strategies and many more! Also, stay tuned for Women Mobilize Women & WhereIsMyTransport study on the gender data gap coming soon!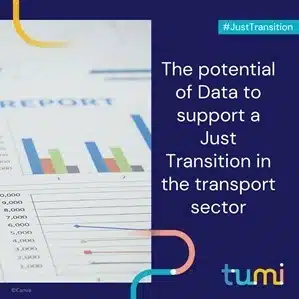 TUMI Pilots
Cuenca at the Safer City Streets, Guadalajara
The city of Cuenca participated on the "Safer City Streets" event organized by the International Transport Forum in Guadalajara, México. The city had the chance to get insights on how organizations are supporting cities on the challenge of improving road safety focused on vulnerable users. The city learned how cities like Bogotá, Guadalajara and México DF are facing the challenge on reducing traffic deaths from transport by improving conditions for active mobility, traffic management and the imperative role of reliable data for decision making and monitoring. Organizations like ITDP, iRAP, POLIS, IDB, Global Designing Cities Initiative, the same ITF among others shared their experiences and work around the globe. The city was able to access to useful information and resources as tools for improve their planning capacities focus on road safety.
Anchoring green recovery of urban mobility in Ukraine: Eight building blocks

Ukraine's victory is not yet complete. Reconstruction is, however, already in full swing in many parts of the country – rightfully so. At the same time, the debate around the nature of that reconstruction, particularly how to design a green recovery, is growing. While the green recovery debate often focuses on individual technologies or solutions, a deep transformation requires a holistic approach that includes planning and policy approaches, institutional amendments and changes in legislation, financing, standards, and technical recommendations. Against this backdrop, our new paper outlines eight essential building blocks for a green recovery in urban mobility. The eight building blocks interconnect and reinforce each other as they form the foundation for a sustainable development of urban mobility. In a sense, they shape the institutional and administrative framework required for the further development of urban mobility in Ukraine. Joint article by Marta Pastukh, Viktor Zagreba, and Mathias Merforth
Discover our eight building blocks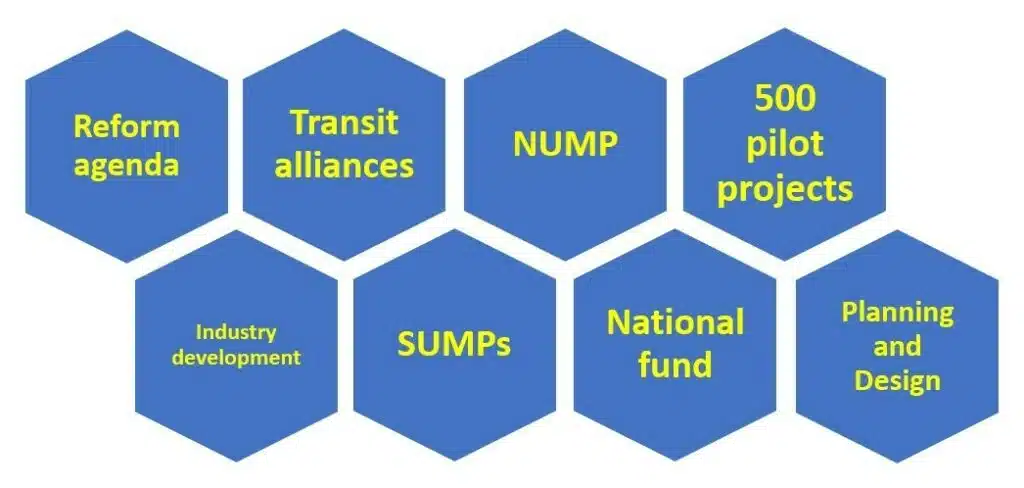 Lviv at the European Mobility Week

The European Mobility Week is the European Commission's flagship awareness-raising campaign on sustainable urban mobility. It promotes behavioural change in favour of clean, intelligent transport solutions. This year's European Mobility Week took place in almost 3.000 cities in 51 countries all around Europe, one of them being the Ukrainian city Lviv. Participants were able to enjoy a variety of activities supported by the TUMIVolt Pilot Project in Lviv (GIZ) to promote sustainable urban mobility in the city: thematic city tours, presentations, discussions, quizzes, and workshop opportunities about tactical urbanism.
Partner News
ITDP | Online Course
ITDP has launched their Learning Hub and the 2022 "Mobility and Access for Babies, Toddlers and Their Caregivers" online course. This course will explore the planning, design, and policies focused on this user group and why it is important to integrate their particular needs into transport planning decisions. The course follows the synthesis on mobility needs and frameworks for access laid out in the report: "Access for All: Access and Babies, Toddlers, and Their Caregivers". More information…
ITDP | Webinar
Protected Bicycle Lanes Protect the Climate – Evidence from Cities
A new study from ITDP, Despacio, and the FIA Foundation provides the first empirical evidence directly linking bicycle infrastructure to cutting carbon in middle-income cities. In fact, networks of protected bicycle lanes provide more carbon reduction per dollar spent on infrastructure than most other transport interventions. Learn more about the upcoming study in this webinar. More information…
ITDP | Webinar
Connecting Communities Through Equitable Mobility Planning
This deep-dive session highlights innovative strategies and interventions employed by past and current Sustainable Transport Award nominees and winners, which includes the cities of Bogotá, Colombia and Peshawar, Pakistan, as well as the state of Jalisco, Mexico. This session aims to foster a better understanding of mobility characteristics and needs of people, policies, and design strategies for more equitable cities. More information…
ITDP | Report
Challenges and Solutions for Equitable Mobility in Brazil and Beyond
Published in both Portuguese and English by ITDP Brazil, this report highlights key considerations for developing more equitable mobility management strategies, such as parking reforms and driving restrictions on private vehicles, situated in a Brazilian context. These lessons can also be applied to other cities in low- and middle-income countries. More information…
ITDP | Twitter Space
Let's Talk About Resilient, Accessible Cities for All
Building on ITDP's Access and Persons with Disabilities in Urban Areas report, this audio-only Twitter Space conversation took place in September and highlights opportunities and challenges to creating built environments that are more inclusive, accessible, and resilient for persons with disabilities. Listen to the full audio on YouTube. More information…
ITDP | Blog Post
STA 2023 Nominees: Responsive Governance During the Pandemic
For the 2023 Sustainable Transport Award, several key themes have emerged from this year's Nominee Cities in the ways they are rebuilding from the impacts of the pandemic. In particular, concepts of care, accessibility and public health are at the forefront of policies and interventions being enacted by these cities to create more resilient urban futures. More information…
WRI | TheCityFix
Congestion Pricing – But Make It Flexible & Equitable
Congestion pricing is one of the most common-sense tools to curbing traffic, reducing tailpipe emissions and creating a more efficient transportation system that gets people where they need to go. It's also extremely politically contentious, especially in cities in the United States, where drivers often believe that they should not have to pay for the road space they use, nor for the other negative externalities of automobile use. Guest writers Carlos F. Pardo and Frederic Charlier explore existing global congestion pricing mechanisms in this guest blog. More information…
WRI | TheCityFix
4 Lessons on How to Transform to Zero-Emission Transport in India
The NDC Transport Initiative for Asia (NDC-TIA), implemented by WRI and other partners, is working to help India facilitate this paradigm shift to zero-emission transport. Drawing on the analysis and narratives raised by NDC-TIA partners, here are four key lessons on how to transform to zero-emission transport in India. More information…
SLOCAT | Report
New SLOCAT report on transport and 2022 voluntary national reviews
The report analyses how countries are reporting transport measures in their 2022 reviews about the implementation of the Sustainable Development Goals (SDGs). This eighth edition of the SLOCAT flagship analysis is showing that a number of 2022 VNRs highlight sustainable transport actions in the context of COVID-19 pandemic recovery and the urgent transition to renewables from fossil fuels. However, most 2022 VNRs only describe the adverse impacts of the ongoing crises instead of presenting concrete policy measures or they do not fully enable equitable access to transport and mobility for all. The report concludes with four recommendations for countries to optimise the use of transport and mobility measures in support of the implementation of the SDGs. More information…
SLOCAT | Tracker
Tracker on Transport Community Engagement at COP27
One more year, SLOCAT is facilitating and tracking the engagement of the transport community at COP. Visit our dedicated webpage and infopackage for details on engagement opportunities and SLOCAT's activities – including the COP27 edition of the SLOCAT Transport Day, this year dedicated to investment in public transport, walking and cycling.
If you would like to see your event included in our tracker, please fill out this form.
SLOCAT | Six actions to enable walking, cycling and public transport for people and planet – a call to action by SLOCAT
Join SLOCAT in supporting meaningful scaling up of walking, cycling and public transport everywhere, particularly in the Global South. Share any initiatives, activities or materials you would like featured in the associated library. Share your support now on Facebook, Twitter and LinkedIn! More information…
SLOCAT | Blog series
African Voices towards COP27 – a series by SLOCAT
The blog series features a wide range of local professionals, experts and change makers to elevate voices from African professionals seeking to tackle transport and mobility challenges with context-adapted and cost-effective solutions. Collectively, these blogs presents a multi-stakeholder space for peers to exchange, learn from one other and explore opportunities for collaboration towards COP27 and beyond. More information…