Welcome to this issue of the TUMI Update!
As we enter the month of May, a time of renewal and growth, we are reminded of the importance of sustainable transport in creating a better future for our planet. With climate change posing significant challenges, it is continuously crucial to prioritize eco-friendly transportation solutions. From public transport, cycling and walking, there are numerous ways to reduce the carbon footprint and promote sustainability in the mobility choices.
This month, our newsletter focuses on the latest TUMI activities such as the TUMI Data Launch and we are excited to share more details on the Upcoming TUMI2023 Conference "Feminist Voices in Transport".
Join us on our mission to transform urban mobility systems and to press the need for women empowerment in the transport sector to drive a greener, healthier, and more sustainable future.
Happy reading, and let's keep moving towards a better tomorrow!
Highlight of the Month
TUMI2023 Conference "Feminist Voices in Transport"
Back-to-back to the ITF 2023 Summit

Tuesday, 23rd May 2023
10:30 – 17:30 CET, followed by a reception
Kongresshalle am Zoo Leipzig, Pfaffendorfer Straße 31, 04105 Leipzig, Germany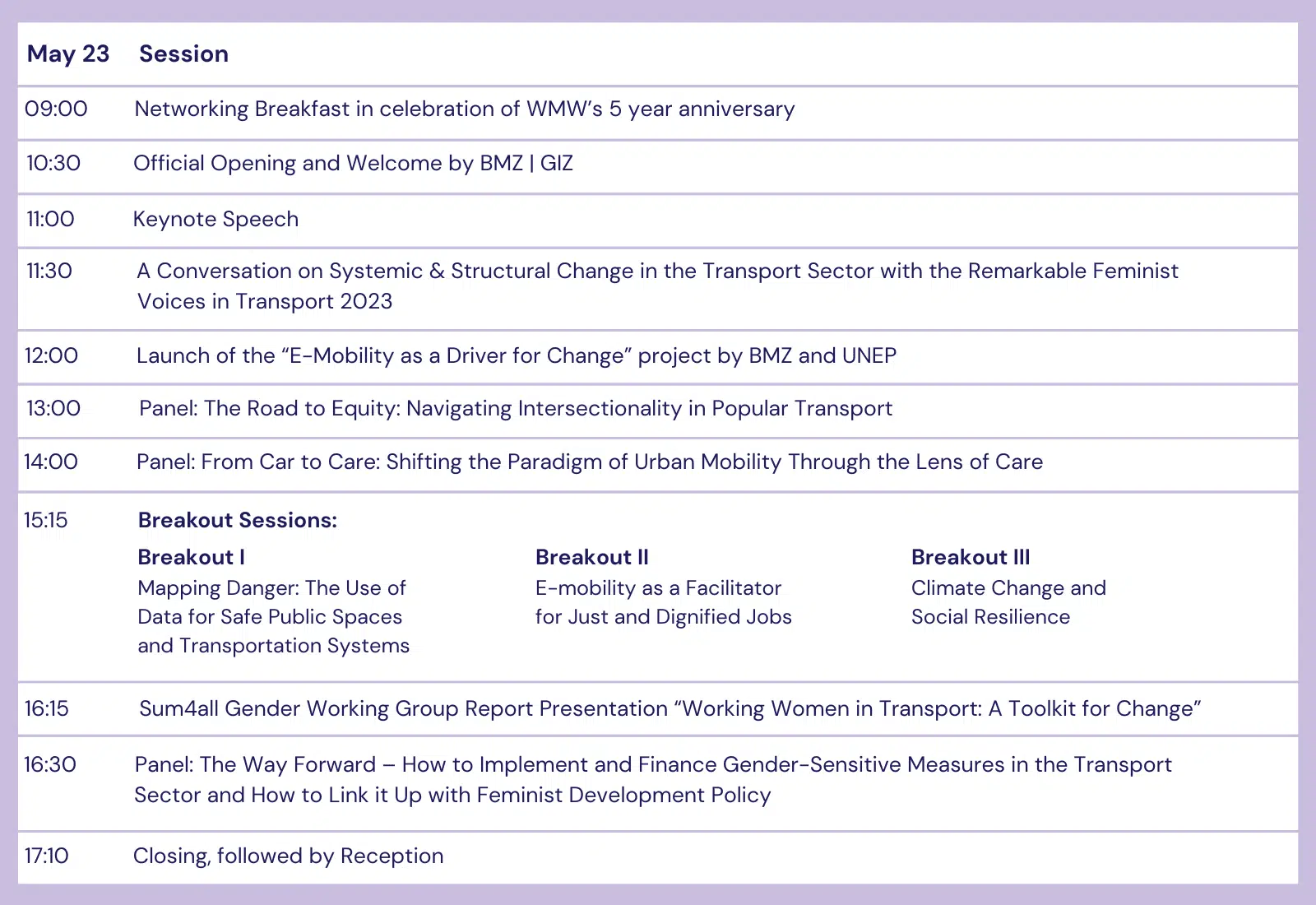 Find all up to date information such as the TUMI2023 Preliminary Conference Program online!
Meet a selection of our TUMI2023 Conference speakers!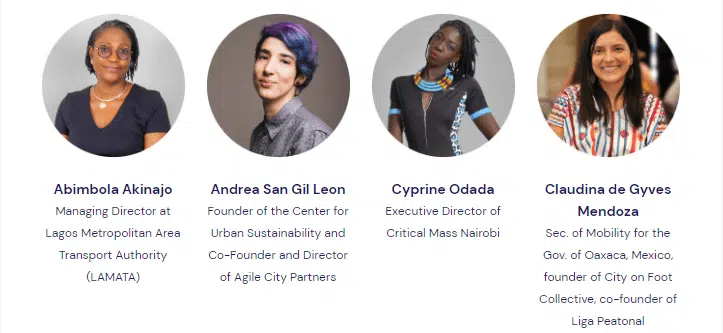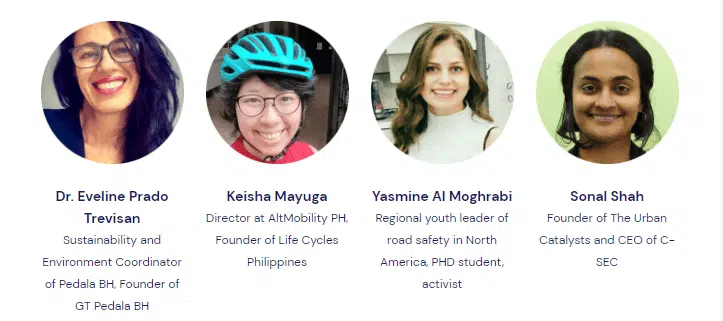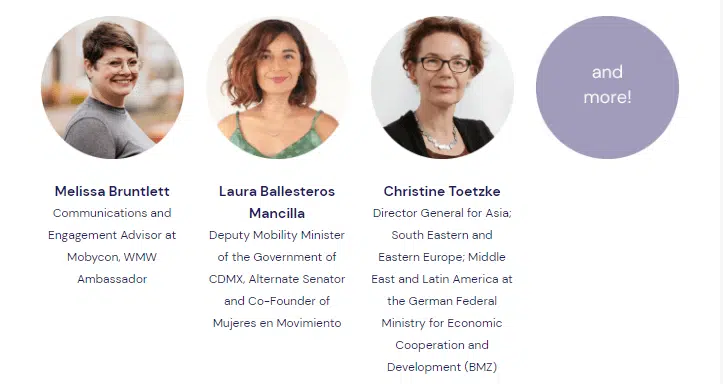 If you have any questions or concerns about the TUMI2023 Conference, please don't hesitate to reach out to us at conference@transformative-mobility.org
TUMI Data
Launch of TUMI Mobility Data Hub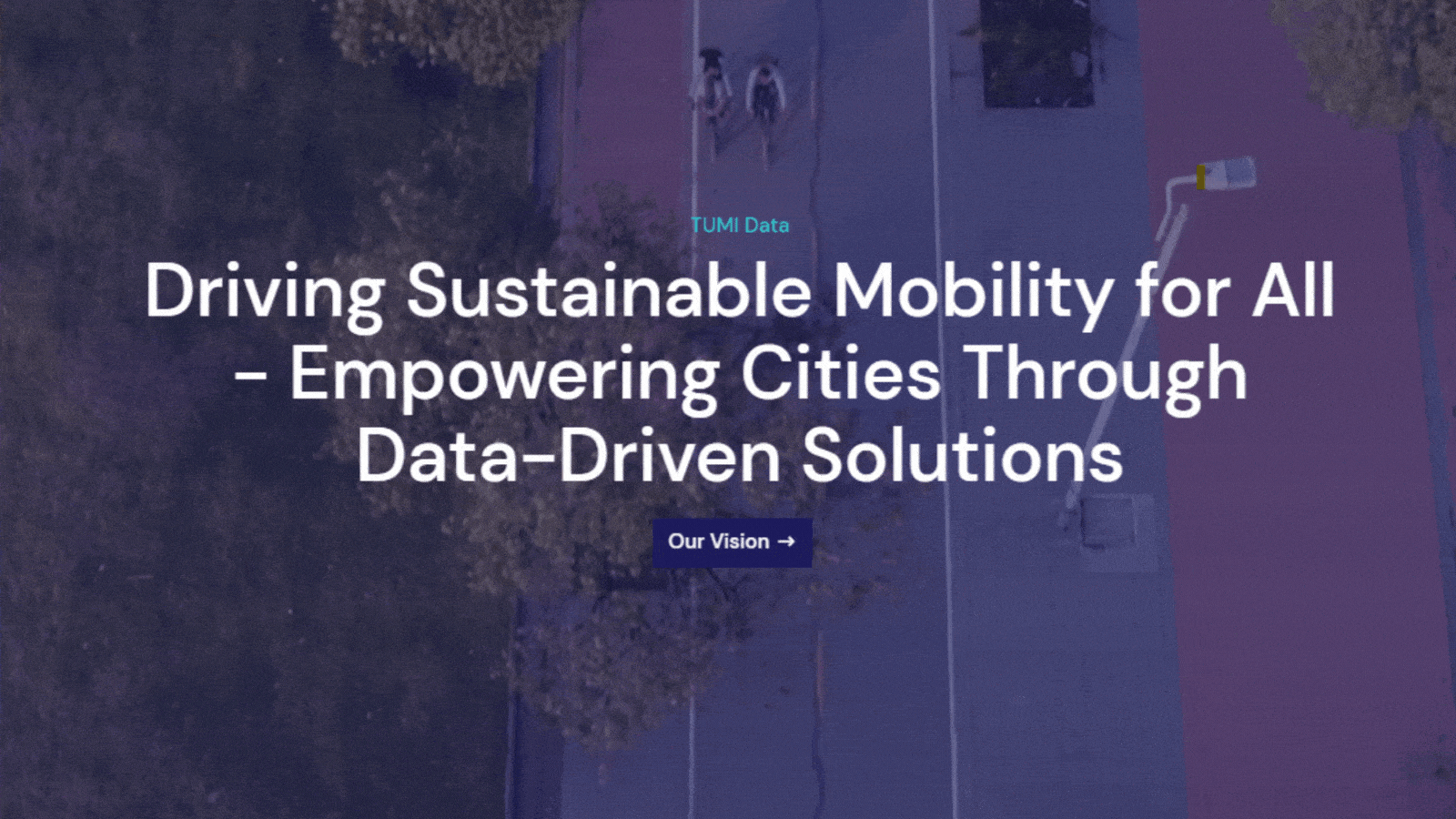 We are thrilled to announce that our project "TUMI Data – Datos para una movilidad sostenible," in collaboration with our partner CAF – Banco de Desarollo de America Latina, and supported by the New Urban Mobility Alliance (NUMO), has finally come to fruition. We held our launch event in Bogotá on the 12th and 13th of April, which marked the culmination of our immensely rewarding and insightful journey!
The event provided a platform for valuable insights on data-driven policy formulation and facilitated discussions on the challenges and opportunities within the mobility sector in Latin America. We were thrilled to offer the first-ever event solely focused on data and digitalization in mobility in the region, emphasizing the pivotal role that these factors play in shaping the sustainable future of the sector!
We are excited to invite you to explore the TUMI Mobility Data Hub. Happy exploring!
Data for Adaptation in Vietnam: Climate Proofing bus transport to flooding in Ho Chi Minh City
Vietnam is already experiencing the effects of climate change with rising sea levels and intense storms. The overflowing of canals during heavy rains poses problems for the country's transport system. TUMI is stepping in to support Vietnam by leveraging data integration and bridging gaps between different departments and bus operators to model effective contingency plans to tackle the transportation challenges.
In a proactive approach to mitigating the effects of bad weather, TUMI is supporting to develop a predictive model to better forecast congestion caused by flooding. By collecting and analyzing data with advanced algorithms, valuable information can be provided to Vietnamese authorities, enabling them to adapt roads to weather conditions and keep them operational.
This project is a crucial step towards increasing the resilience of the Vietnamese transport system and promoting sustainable transportation options in Vietnam's largest city.
TUMI E-Bus Mission
Inclusión laboral femenina en el transporte público. Estudio de caso del Programa Mujeres Conductoras en Jalisco, México
Exciting news! We are proud to announce the publication of our TUMI E-Bus Mission's latest study, "Inclusión laboral femenina en el transporte público. Estudio de caso del Programa Mujeres Conductoras en Jalisco, México" by Gabriela de la Torre Ríos and Joselyn Delgado Miranda.
This insightful publication documents and analyzes the Mujeres Conductoras Program (Women Bus Drivers) in Jalisco, Mexico, which aims to address the lack of female drivers in the Latin American public transportation sector.
Currently, women make up only 15% of the workforce in this field, making it crucial to promote gender equality and inclusion through training and professionalization opportunities. The research highlights the importance of these efforts and sheds light on the challenges that women face in accessing and remaining in the transport sector.
We are honored to contribute to this important debate and hope that this publication will inspire further action for gender equity and inclusion in the public transport sector.
Women Mobilize Women
Talking Transport Transformation with Olesia Kholopik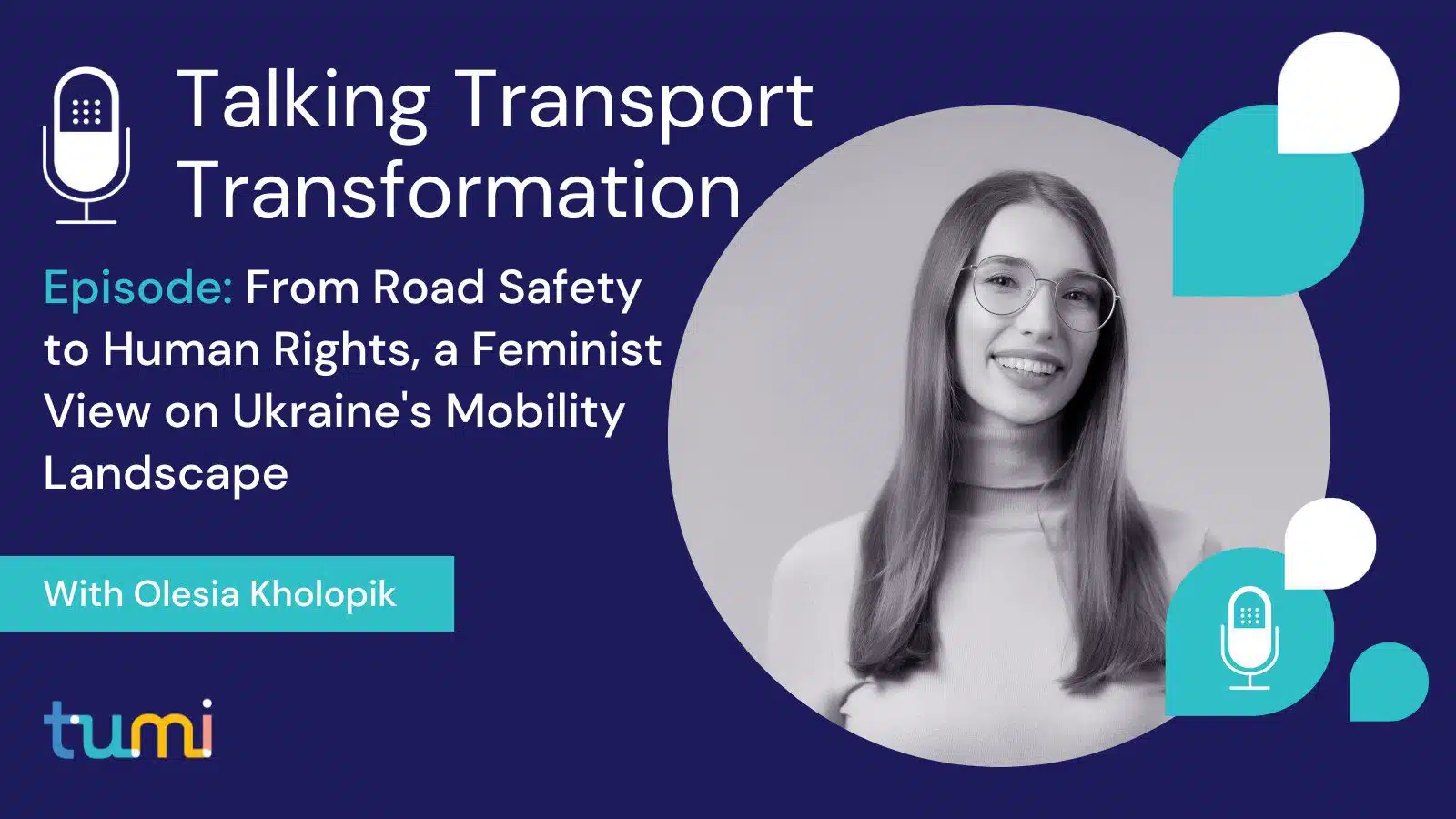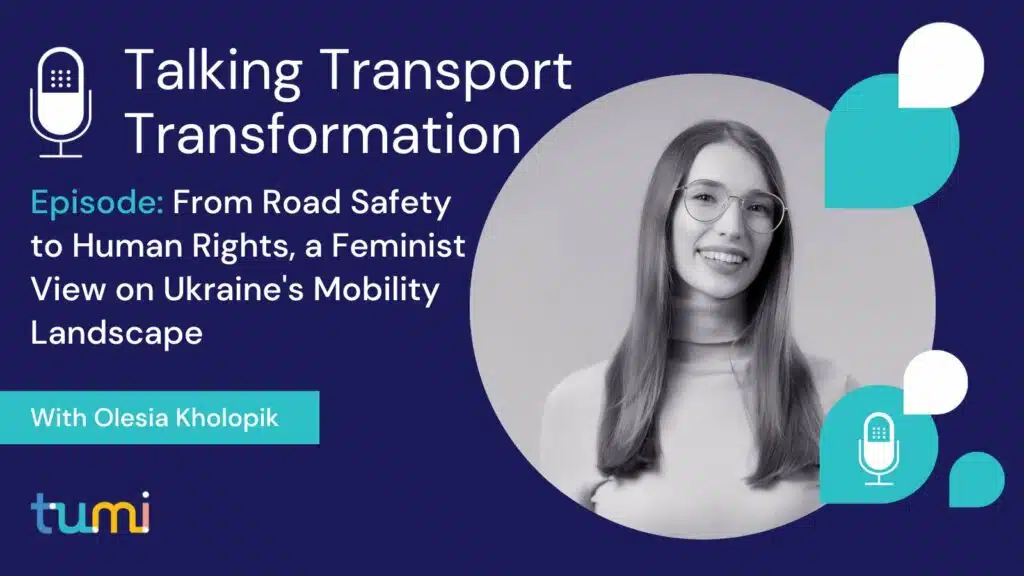 In this episode, we meet Olesia Kholopik, the Director of the Centre for Democracy and Rule of Law in Ukraine. We discuss the challenges for road safety in Ukraine, the role of civil society in the transport sector, and how the full-scale war of Russia against Ukraine affects the work of the sustainable transport community. Despite the ongoing attacks against her country, Olesia has remained committed to protecting human lives in many ways – including the engagement for safer roads. Join us to hear about her impressive work as an advocate for human rights in mobility and the lessons she has learned along the way. This episode is part of Women Mobilize Women's campaign on "Remarkable Feminist Voices in Transport".
Discover the newly launched TUMI Knowledge Hub which features all TTT Podcasts!
Mobilize Minds
The self-paced "Achieving Zero Carbon Sustainable Urban Mobility" online course started its 3rd run on 24th April
Focus of the course:
• Why do we need to change our systems? Accelerating Transitions to zero carbon sustainable urban mobility systems matters.
• Relevant conceptual & theoretical frameworks (building blocks)
• Tools & Methods to support the acceleration
• Practical implementation challenges and opportunities
• Relevant case studies across the Global North and Global South
---
TUMI Partner News
KfW  | Opening
The Prime Minister of India, Shri Narendra Modi, will inaugurate the Kochi Water Metro, a KfW-financed project, today, 25 April 2023.
Kochi Water Metro is a unique project of an Integrated Water Transport System, the first of its kind in India. The German Financial Cooperation contributed to its financing with an 85 Mio. Euro loan. Project Partner is Koch Metro Rail Ltd. (KMRL) a state-owned SPV.
The metropolitan region of Kochi, which comprises many small offshore islands, is characterized by largely water-based economic activities along channels through the city. Thus, Kochi's inhabitants depend on fast and safe water transport. Especially for the rapidly growing suburbs, a reliable and integrated connection between the mainland and the numerous peninsulas and islands is required. Up to 30,000 people per day are expected to directly benefit from the project. Health-threatening air pollution and excessive noise get reduced, which allows for a better quality of life in the Kochi region while stimulating the economy at the same time. Low-income households and women in particular will benefit from this economic upturn, as tickets are affordable and monitoring promises safety and comfort.
The specific architecture of the electric-driven ferries contributes a great deal to the achievement of the project objectives. They are fast, safe, comfortable and last but not least energy-efficient and thus contributing to considerable CO2 savings. 8 of them start now their regular operation. The entire system will comprise 78 ferries and 38 jetties operating on 15 routes.
---
WRI | Webinar
"Low-Emission Zones- Addressing Air Quality, Reducing Congestion & Increasing Economic and Racial Equity"
During the IURC's second Sustainable Urban Mobility and Transport session, attendees will learn from Jacob Mason from the Institute for Transportation and Development Policy (ITDP) on what low-emission zones (LEZ) are and what can make them more successful. Hear directly from Jordi Jové from the Metropolitan Area of Barcelona, Spain, how they were able to implement their expansive LEZ and considerably reduced private vehicles and greenhouse gas emissions and gain insights from Hamilton Steimer and Lidia Henderson from World Resources Institute on how to address the challenges to implement a LEZ in your city. The speakers will also explain how LEZ, beyond improving air quality and reducing congestion, can be an important economic and racial equity tool.
WRI |Event
World Resources Institute's Electric School Bus Initiative at ACT Expo
Since 2011, ACT Expo has served as the industry's official meeting place for transportation executives looking to gain hands-on access to the vehicles, technologies and fuels driving the future of transportation. This year, May 1-4, fleets, providers and OEMs will come together for a week of networking and learning at the event. The Electric School Bus Initiative looks forward to making connections and gaining insight into the latest policies and regulations affecting electric school bus fleets.
---
ITDP | Webinar
Bhubaneswar – How Inclusive Processes Create Better Transport Systems for All
The City of Bhubaneswar, the 2023 Sustainable Transport Award Honorable Mention, is a major mover in green and equitable urban mobility since it opened the Mo Bus city bus service and modernized the first and last mile e-rickshaw connectivity options through its feeder service known as Mo E-Ride. Join us on May 3rd to hear from the representatives of the agency of the public transport service, Capital Region Urban Transport.
ITDP | Webinar Recording
Cycling Cities Stories: Making Temporary Cycle Lanes Permanent
In this webinar, we hear from two cities from ITDP's Cycling Cities cohort—Zapopan, Mexico and Bengaluru, India—that implemented temporary cycle infrastructure during the pandemic. As part of a moderated discussion, the cities share their stories of how this infrastructure was implemented, and the progress that has been made in the past few years on critical cycling infrastructure.
ITDP | Webinar Recording
How to Create Inclusive Cities and Places for Babies, Toddlers and Caregivers
Changing the narrative of cities to be more inclusive, safer, and engaging for caregivers with young children requires thinking through an intersectional lens of their particular needs and behaviors. It also requires creative engagement methods to get both the right type of data and political and public buy-in. In this session we look into the use of behavioral change tactics like pilots and positive messaging that help implement temporary and permanent projects in Tirana, Albania.
ITDP | Article
Why Trans and Queer Visibility on Public Transport Matters
In honor of International Transgender Day of Visibility, ITDP recognizes that — for our cities to be truly equitable — they must actively include considerations for gender non-conforming pedestrians, cyclists, and transport passengers and ensure that they feel safe, protected, and respected.
ITDP | News
U.S. Working Group Calls on White House to Strengthen Guidance on Transport Emissions
A national working group of high-profile U.S. urban and environmental development organizations (including ITDP) have issued detailed comments to the White House calling for stronger leadership and direction from the transportation sector in achieving urgent emissions reduction targets.